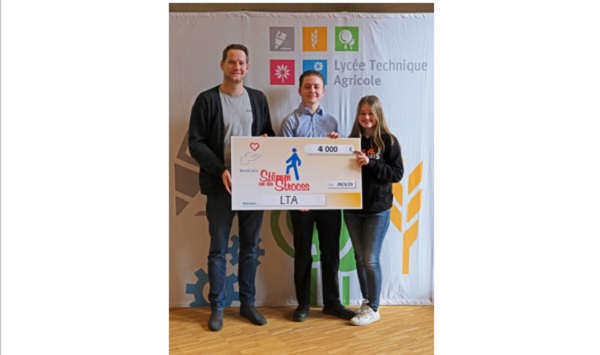 Credit: Stëmm vun der Strooss
Stëmm vun der Strooss, a local non-profit organisation which supports people experiencing homelessness and vulnerable members of society, has reported that the Lycée Technique Agricole Gilsdorf recently donated €4,000 to support the renovation of the former's social restaurant in Ettelbruck.
Represented by Romain Tobes, deputy director of the LTA, and Manon Roemen, management member, the secondary school presented a cheque worth €4,000 to Bob Ritz, communications officer of Stëmm vun der Strooss, on Tuesday 27 March 2023.
A group of students attended a presentation about the activities of Stëmm vun der Strooss, which was followed by the ceremonial handing over of the donation. The secondary school students discovered the association's new social restaurant in Ettelbruck through photographs.
As the financing phase of the renovation costs has been completed, their donation will enable Stëmm vun der Strooss to stock up on non-perishable food for the Ettelbruck restaurant, which has been serving an average of 60 to 80 meals per day.
This donation came from the proceeds of a Christmas market held at the school in winter 2022. Stëmm vun der Strooss noted that the entire school and the parents' association participated.