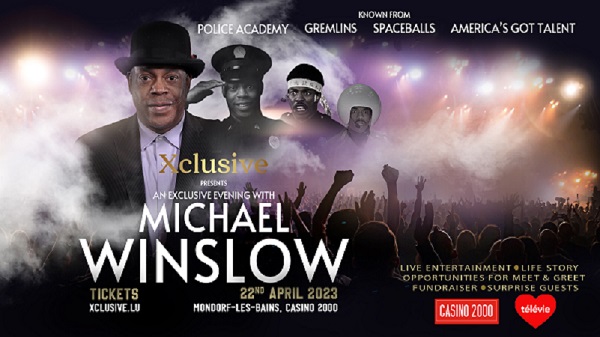 Michael Winslow at Casino 2000 - Chapito.; Credit: Xclusive
The film and publicity Company Xclusive has announced a live on-stage event featuring Michael Winslow; the event will take place at Casino 2000 in Mondorf, on Saturday 22 April 2023 at 20:00 (doors open at 19:00).
The show will provide an opportunity to discover the life story of Michael Winslow, a talented American actor and comedian best known for his ability to create sound effects and impressions using his voice.

The event will include a fundraiser to support Télévie, a visit at a children's hospital, and the funds collected from the meet & greet event will be donated in their entirety to Télévie.

Michael Winslow rose to fame in the 1980s thanks to his role as Larvell Jones, the quirky officer who made sound effects, in the "Police Academy" movies. He has also performed stand-up comedy and live shows, where he showcased his voice acting talents further. He later appeared in films like "Gremlins" and "Spaceballs" before retiring to raise his children after the death of his wife. Now that his children are out of the house, he disclosed he is "in a different phase" of his life.
Tickets from €62 from https://casino2000.lu/en/events/michael-winslow-an-xclusive-evening-with/.