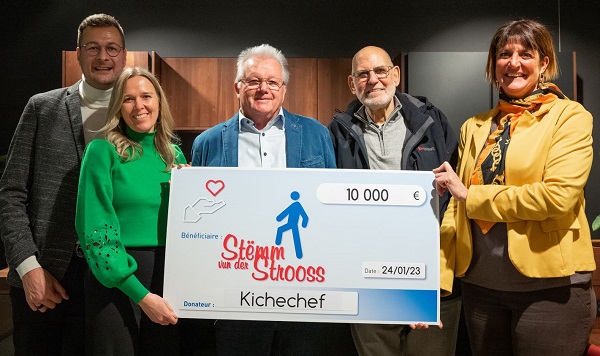 Credit: Stëmm vun der Strooss
Stëmm vun der Strooss, a local non-profit organisation which supports homeless people and vulnerable members of society, has announced that Luxembourg furniture store Kichechef recently donated €10,000 to support the renovation of the former's social restaurant in Ettelbruck.
On Wednesday 24 January 2023, Kichechef presented a cheque for €10,000 to Marcel Detaille, President of Stëmm vun der Strooss, and Alexandra Oxacelay, Director of the non-profit. The official donation handover took place at the Kichechef shop in Capellen.
This sum is the result of several charity events organised during the winter months of 2022. For example, on 26 November 2022, Kichechef organised a solidarity march called "Home Sweet Home - Santa Run". Covering a distance of 5 km, the shop's 250 employees, who had been invited to participate with their families and/or friends, ran for the benefit of Stëmm vun der Strooss. For each person registered, Kichechef donated €10 to the non-profit. At the same time, Kichechef offered the non-profit's volunteers the opportunity to serve grilled food and drinks, to increase revenue.
Moreover, Home Sweet Home candles were on sale at the shop's cash registers from 27 November to 24 December 2022. Part of the amount raised was the result of a fundraising appeal on the retailer's social networks and eventually, the management rounded up to the sum of €10,000.
These initiatives are part of the company's corporate social responsibility (CSR) policy and its slogan since 2019: "Home Sweet Home". This is the second time that the company has supported Stëmm vun der Strooss, but this time the entire staff had been asked to help and participate.
This financial support will be invested in the renovation of the new social restaurant at 47 Rue Prince Henri in Ettelbruck. The facility, which will be open for people in need in the north of the country, is scheduled to open in early February 2023.
Alexandra Oxacelay explained that Stëmm vun der Strooss has already been present in Ettelbruck since March 2022, serving meals in a car park opposite the train station. Between March and September 2022, the non-profit had served a total of 6,759 meals to a daily average of 50 people.