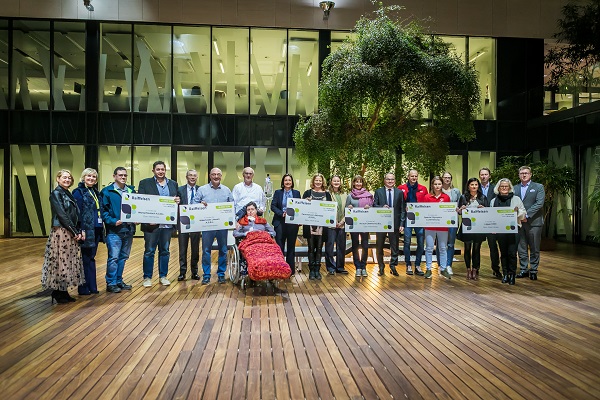 Banque Raiffeisen donates €30,000 to local charities, in the presence of Laurent Zahles and Jean-Louis Barbier, Management Committee Members; Credit: Banque Raiffeisen
The Luxembourg cooperative bank Banque Raiffeisen has announced that its members recently donated €30,000 to various charities.
Banque Raiffeisen noted in a statement that it has been active on the Luxembourg market for almost a century and has always dedicated itself to upholding the values and commitments inherent in a cooperative bank.
As part of its social commitment, Banque Raiffeisen makes annual financial donations to various Luxembourgish associations with the help of its OPERA members.
In the presence of Laurent Zahles and Jean-Louis Barbier, both Members of the Management Board, the bank continued this tradition by making donations for a total value of €30,000, of which €5,000 went to each of the following organisations:
• Wonschkutsch Asbl: based on the work of volunteers who are mostly trained paramedics, carers or nurses. Created in 2018, this association aims, free of charge, to carry out the last wishes of terminally ill patients who are unable to get around on their own;
• LIGUE HMC Asbl: created in 1963, this association supports people with intellectual disabilities and is committed to their social inclusion;
• Special Olympics Luxembourg: founded in 1979, Special Olympics Luxembourg is the sports federation for people with an intellectual disability. It allows them to practise various sports activities according to their interests and abilities;
• Femmes en Détresse Asbl: this association offers women, their children, and young girls protection against violence through developing and managing women's and young girls' homes, counselling and information centres. It also provides them with temporary accommodation, with or without supervision;
• Wäertvollt Liewen Asbl: the aim of this association is to set up a national network of reference and competence for people suffering from amyotrophic lateral sclerosis (ALS) or a similar pathology, in particular by accompanying people suffering from ALS and their relatives, by representing their interests and by contributing to the presentation of a model of home care 24 hours a day;
• Île aux Clowns Asbl: based on the work of volunteers, Île aux Clowns works in hospitals and other social and health establishments and structures to bring good humour, joy and smiles to people, both children and adults, who are confronted, temporarily or otherwise, with difficult living conditions.
The donations made are financed exclusively with funds from Raiffeisen members who have taken the initiative to exchange the points they have earned in the OPERA loyalty programme for a donation to one of the charities.