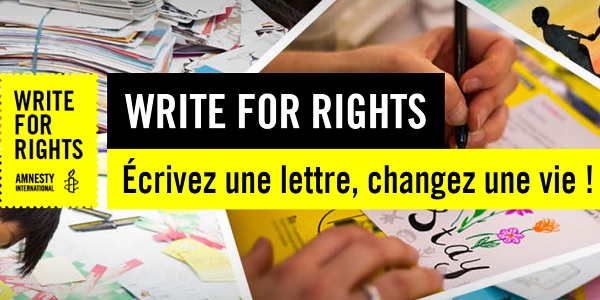 Credit: Amnesty International
Amnesty International Luxembourg has announced the launch of this year's "Write for Rights" campaign, a global letter writing campaign that aims to rally people to the cause of human rights.
In the run-up to international Human Rights Day, on Saturday 10 December 2022, Amnesty International Luxembourg is calling for commitment to human rights with a concrete action: sending a letter to the authorities or a postcard to someone whose fundamental rights have been violated. The messages from Luxembourg will join millions of others, sent around the globe at the same time, in support of the ten people and groups for whom Amnesty International is mobilising during this year's Write for Rights campaign.
"One could ask if a simple letter can really make things happen. But in this campaign, your letter is one of millions of others sent together. They flood the postboxes of governments, leaders and decision-makers in countries around the world and press for authorities to respect human rights. Messages of solidarity also bring much-needed hope to those who are going through some of the darkest times in their lives", explained Olivier Pirot, Director of Amnesty International Luxembourg.
The global letter-writing campaign, Write for Rights, has been held annually for over 20 years. Today, it mobilises people in more than 200 countries and territories and has become the world's largest human rights event. Last year, more than 4.5 million actions were carried out, including 12,465 in Luxembourg. The section intends to rally even more people to the cause of human rights this year and has set itself a new objective of 15,000 actions carried out.
In addition to letters and postcards, it is also possible to support the campaign online, through messages on social networks or by signing the online petitions.
Information on the ten people and groups in the Write for Rights 2022 campaign and the different ways to get involved can be found on the dedicated website: https://write4rights.amnesty.lu/.
Testimonial evening
Every year, real change happens thanks to these millions of letters and actions, according to Amnesty International Luxembourg. Recent success stories include the release of Burundian human rights defender Germain Rukuki, who will share his story at a public event on Monday 28 November 2022 at 18:00 at the Altrimenti cultural centre in Luxembourg-Ville. The activist was released last year after serving more than four years of a 32-year prison sentence for his peaceful activism and now lives with his family in Belgium. Also present will be Yren Rotela and Mariana Sepúlveda, transgender women and LGBTIQA+ activists fighting for their rights in Paraguay and who are highlighted during the Write for Rights 2022 campaign. After testimonies and answers to questions from the audience, the participants will have the opportunity to continue the exchange over a drink and an aperitif dinner.
Human Rights March
On the occasion of Human Rights Day, on Saturday 10 December 2022, Amnesty International is inviting members of the public to join its "Human Rights March", a torchlight parade taking place at 17:30 in Place d'Armes in Luxembourg-Ville. Torches and candles will be provided.
Following the march, from 19:00, Amnesty International will organise a letter writing evening at Forum Geesseknäppchen in Luxembourg-Hollerich. A shuttle will be available to transfer participants between the two sites.