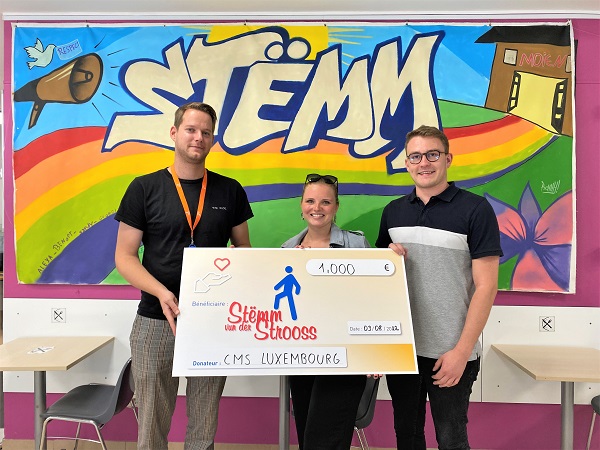 Credit: Stëmm vun der Strooss
The law firm CMS Luxembourg recently donated €1,000 to support the activities of Stëmm vun der Strooss, a local non-profit organisation which supports homeless people and vulnerable members of society.
On Wednesday 3 August 2022, Jade Janssens, Alejandra Velasco and Guillaume Flagollet of CMS stopped by the headquarters of Stëmm vun der Strooss in Luxembourg-Hollerich (7 Rue de la Fonderie, L-1531). There they had the opportunity to visit the premises and to discuss the functioning and the projects of the non-profit with Bob Ritz, Communications Officer at Stëmm vun der Strooss. The official handover of the donation took place directly after the visit.
The donation sum came from an internal competition organised by the law firm, in which employees were asked to walk as many kilometres as possible in teams of four to support an organisation of their choice. The three winning teams then had the opportunity to donate the sum of €1,000 to three selected organisations, one of which was Stëmm vun der Strooss.
Concerned about the heatwave faced by disadvantaged people, the CMS representatives decided that their donation should be used to buy drinking bottles for the beneficiaries of Stëmm vun der Strooss' various sites, whether in Esch-sur-Alzette, Hollerich, Ettelbruck or the Saxo centre.