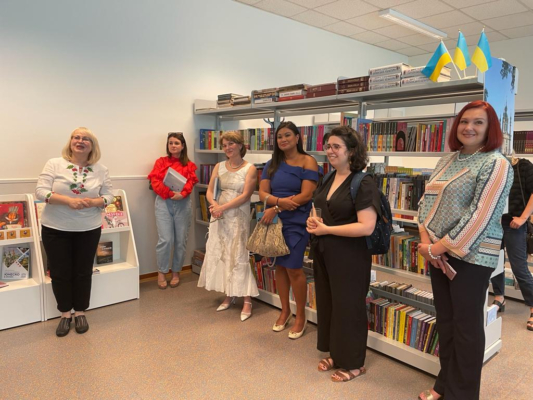 Credit: RUHelp
On Wednesday 15 June 2022, a library for Ukrainian refugee children, supported by Luxembourg's Ministry of Culture and the Ministry of Education, Children and Youth, was inaugurated in Luxembourg-Ville
Lydie Polfer, Mayor of Luxembourg-Ville, commented: "It is of utmost importance to the City of Luxembourg that we do everything we can to help the people who had to flee their country. A library is more than shelves and books; it is a meeting place filled with culture. In these difficult times, a place like this allows people to connect with each other, find their bearings and enjoy a moment of respite".
On Thursday 16 June 2022, Luxembourg based non-profit organisation RUHelp – Russians against the war announced a donation of books and board games to the library.
With the curatorial support of Olga Alexandrova, one of the best-selling Ukrainian writers and currently a war refugee in Luxembourg, books in Ukrainian were ordered from the Kyiv-based "Library Krajina" Foundation, of which 384 were children's books, 378 books from school curriculum and 183 classics of world literature. The books, with a total value of €5022.47, as well as 32 board games worth €941.67, were purchased with the proceeds of the charity concert by Alena Beava and Vadym Kholodenko, organised by RUHelp on 29 April 2022.
In mid-April, the Minister for Foreign Affairs, Immigration and Asylum, Jean Asselborn, reported that approximately 3,000 Ukrainian refugees, including 1,000 school-age children, were present on the Luxembourg territory, having fled their country since the Russian offensive in Ukraine. The International Organisation for Migration indicates that refugees are generally more likely to suffer from depression, anxiety and post-traumatic stress disorder. The Luxembourg association RUHelp – Russians against the war, decided to support a library for Ukrainian refugees, with a focus on children, to offer them a place of solace and escape. "The association RUHelp – Russians against the war unites people who staunchly oppose the terrible war started by the Russian President's regime and are prepared to do what lies in their power to stop it and support people affected by it", the organisation said.
The organisation added: "Our members believe that it is essential to ensure a link with culture to those fleeing the Russian invasion, and more specifically the children. The library offers a warm welcome, a sanctuary, where books are intended to provide a moment of solace and respite in the midst of hardship".
The library is located at 276, Rue de Rollingergrund, in a former primary school in Luxembourg-Ville, and will host cultural and educational activities such as author readings.