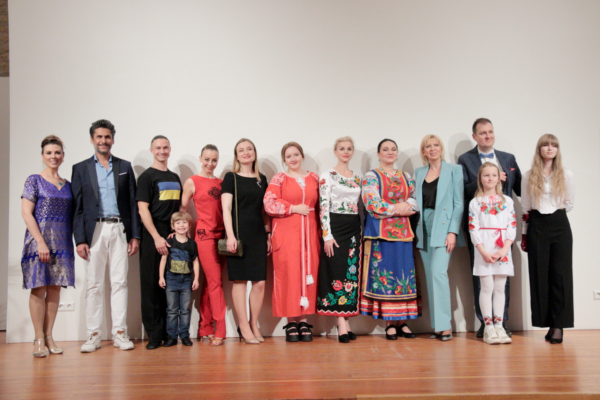 Credit: Kangkan Halder
On Thursday 9 June 2022, the Ukraine-Luxembourg Business Club asbl (ULBC), in cooperation with its partners, raised over €18,000 at a fundraising event at the Schéiss Cultural Centre in Luxembourg-Belair.
The proceeds of this event will be channelled to the Ukrainian Venture Capital & Private Equity Association (UVCA), which in turn will provide aid for the Ukrainian startup community.
Evgenia Paliy, Head of ULBC, welcomed the participants, delegates and representatives of the Ukrainian business community. She emphasised the need for the Ukrainian startup community to continue their work, even under the current unfortunate circumstances, to retain talent and innovation in Ukraine.
Lisa Burke volunteered as the presenter of the event.
Sasha Baillie, CEO of Luxinnovation, welcomed the efforts from ULBC and the Ukrainian community in Luxembourg, and shared the need for continued support for the startup community. She confirmed that Luxinnovation is exploring various avenues to support and collaborate with Ukrainian startups.
A string of performances from Ukrainian artists, singers and performers engaged the nearly 100-strong audience. Two vocalists of the Taras Shevchenko National Opera and Ballet Theatre of Ukraine, Nataliia Semeniuta and Tetiana Liubymenko, performed several opera pieces. Both are Ukrainian refugees in Luxembourg.
In parallel, French painter Rémi Bertoche engaged in a "live" painting on-site. Speaking to Chronicle.lu, media partner for the event, Mr Bertoche explained his choice for the evening (to paint a serene and calm atmosphere of Ukraine and opposite to the chaos of war) of a seaside in the Ukrainian colours of blue, white and yellow. Later in the evening, the painting was auctioned for €4,000 to be donated fully to the cause of the event..
Dariya Maksymchuk, a Ukrainian singer and songwriter, and winner of many international and Ukrainian song contests, presented a song from Vivent Mort, showcasing modern Ukrainian music. She too is a refugee in Luxembourg.
Henri Diederich, Honourary Counsel of Latvia,presented the supportive measures from Latvia to Ukraine during the time of crisis and took note of food supply shortages, which he felt an "absolute disgrace" while Russia is taking hostage countries on the brink of famine. Counsel Diederich invoked the speech of then United States (US) Secretary of State, George Marshall, on 5 June 1947, for a programme to help European countries to stand on their feet post World War II. A similar European Union (EU) programme should provide aid to Ukraine when the "unprovoked and brutal" attacks eventually end.
Nikolay M Novikov, Honourary Consulate of the Grand Duchy of Luxembourg in Ukraine, discussed the current situation in war-torn Ukraine and welcomed support from volunteers and charity alike.
One nine-year-old Luxembourg resident of Ukrainian descent, Evanghelina, in support of the fundraising event recited a poem called "War in Ukraine", in support of this fundraising event, to the admiration and applause of the audience.
Ukrainian couple and professional ballroom dancers, Inna and Renat Korobka, four-time champions of the Ukrainian Dance Sport Federation, semi-finalists of the World Championship and winners of several international competitions, presented two dance performances at this event. Inna and Renat, along with their five-year-old son, originate from Kharkiv in the east of Ukraine. They explained how they lost all their belongings in the early days of the war and are currently refugees in Luxembourg.
Svitlana Mykhailovska, Deputy Director at the European Business Association (EBA) in Ukraine, highlighted the current business atmosphere in Ukraine and nothing that, while there is continued support from the European business communities, there are supply-chain limitations. She mentioned that only three out of thirteen ports in Ukraine are under Ukrainian authority, which heavily limits the flow of trade, especially grain exports. She expressed her hope for more support and cooperation in the coming days to help rebuild Ukraine once the war is over.
David Bubani, a Luxembourgish violinist and opera Singer, originally from Yugoslavia, later presented an opera piece.
The proceeds from entry tickets, sponsorship packages and private donations added up to €14,000, in addition to the €4,000 raised from the auction of Rémi Bertoche's artwork. The price of a single ticket was €175. In total, fourteen artworks by Ukrainian artists were on display as part of the "Project Dream Art Mission" and open to bidding.
The venue, Schéiss Cultural Centre, was provided in-kind for the occasion by the City of Luxembourg (Ville de Luxembourg - VdL), whilst the event was supported and / or sponsored by Luxinnovation, Luxembourg for Finance, the Embassy of Ukraine to Brussels and Luxembourg, Consulate of Latvia in Luxembourg, Chronile.lu, Delano, Radio ARA, European Business Association, Ukrainian Venture Capital & Private Equity Association, TechUkraine and Come a la Maison Group. Several individuals volunteered for the event as well.