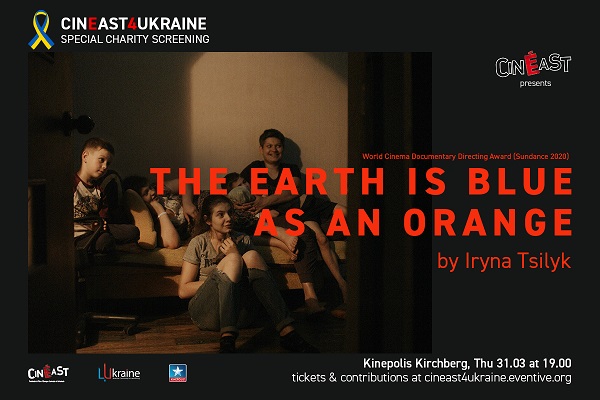 CinEast, the Central and Eastern European Film Festival in Luxembourg, has announced that it is organising, in collaboration with LUkraine asbl and Kinepolis Luxembourg, a charity screening of the Ukrainian-Lithuanian documentary "The Earth Is Blue As An Orange" on Thursday 31 March 2022 at 19:00.
Directed by Ukrainian filmmaker and writer Iryna Tsilyk, who won the Directing Award in the "World Cinema Documentary" category for the film at the 2020 Sundance Film Festival, "The Earth Is Blue As An Orange" tells the story of a single mother, Anna, and her four children living in the war zone in Donbas in Ukraine. With the outside world filled with bombardment and chaos, the family manages to make their home a safe haven, full of life and light. They have a passion for music, but also for cinema, which motivates them to shoot a film inspired by their own life during wartime. The creative process raises the question of what kind of power the magical world of cinema could have in times of disaster.
The documentary screening (73 minutes; in Russian and Ukrainian with English subtitles) will be followed by a pre-recorded question and answer (Q&A) session with the director and a discussion on the humanitarian situation and the support organised in Luxembourg for victims of the Russia-Ukraine war.
Tickets cost €12, with 100% of the proceeds to be donated to LUkraine asbl, a non-profit organisation representing the Ukrainian community in Luxembourg, and used to purchase medical supplies for those in need in Ukraine. Donations are also welcome. Further information about tickets and donations is available at: https://cineast4ukraine.eventive.org.