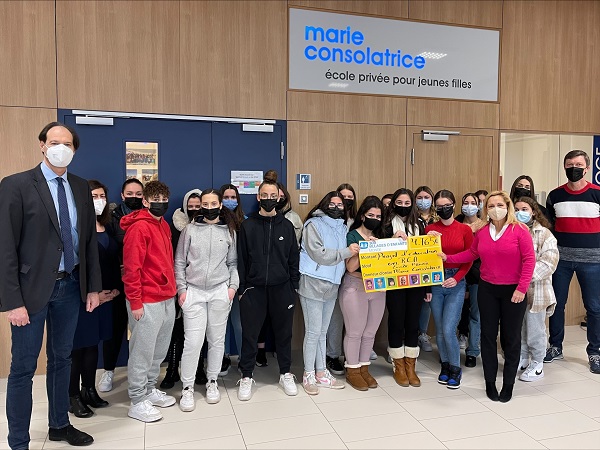 Credit: SOSVEM
Ecole Privée Marie-Consolatrice (EPMC) recently donated €4,765 to Luxembourg non-profit organisation SOS Villages d'Enfants Monde (SOSVEM).
In 2021, for the first time, EPMC in Esch-sur-Alzette made a commitment to SOSVEM, on the occasion of the end-of-year celebrations. As usual, pupils and staff organised a Christmas market for charitable organisations at their school, which was transformed for the occasion into a "Christmas Village". The market, which was held on 27 November 2021, raised funds for two Luxembourg non-profits: Stroossenenglen ("street angels") and SOSVEM.
At the start of 2022, the Director of EPMC, Serge Lucas, along with staff and pupils invited the Director of SOSVEM, Sophie Glesener, and the sponsorship and events manager, Sonia Dos Santos, to their school to present them with a cheque for €4,765.
These funds will be allocated to the development education project (which launched at the end of 2020) in the Kokoro 2 public school located in the vicinity of Bangui, capital of the Central African Republic. Ultimately, the donation will help thousands of vulnerable pupils to benefit from a quality education in a protective learning environment.