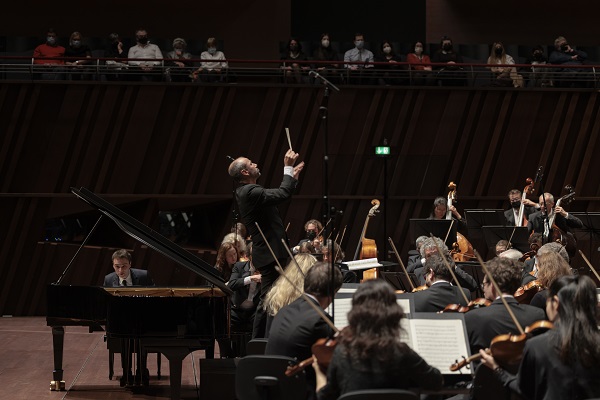 Credit: Philharmonie Luxembourg / Alfonso Salgueiro
On Thursday 2 December 221, SOS Villages d'Enfants Monde (SOSVEM) held its 45th Gala Concert at Philharmonie Luxembourg.
Music-loving members of the public and friends of SOSVEM came to the Philharmonie in large numbers, but in strict respect of barrier gestures, to attend this 45th charity concert with the Orchestre Philharmonique du Luxembourg (OPL).
This traditional event, which dates back to 1976 and is now organised by the non-profit organisation with EY, the Philharmonie and the OPL, could not take place last year due to the COVID-19 pandemic. Despite some changes to the programme, this year's event went ahead as planned, in the presence of Their Royal Highnesses Prince Guillaume and Princess Sibilla of Luxembourg, the Minister of Family Affairs and Integration, Corinne Cahen, and the French Ambassador to Luxembourg, Claire Lignieres-Counathe, alongside SOSVEM members, donors, partners, sponsors and volunteers.
The new President of SOSVEM, Anouk Agnes, introduced the evening. She outlined her determined to continue working, in the footsteps of her predecessor Marjolijne Frieden, with Sophie Glesener, who will be celebrating 20 years at the helm of the non-profit in 2022, and her entire team who are "always doing more and better for these children at world's end whose smiles are the most beautiful of rewards".
Ms Agnes went on to thank all those who work alongside the non-profit for these children who are in the greatest physical and psychological deprivation, such as the young Venezuelan migrants who arrive alone in Colombia and to whom the evening was dedicated. These children, who are cared for in temporary reception centres managed by SOS teams in the field, were at the heart of the report produced by Pascal Becker during a field mission by SOSVEM employee Mélissa Gaj in October.
The event continued with a musical programme under the direction of Dutch-Maltese conductor Lawrence Renes, who took the place of Venezuelan conductor Rafael Payare, who had to cancel on short notice due to the evolving health situation. The evening's soloist, Jonathan Fournel, the 2021 laureate of the Queen Elisabeth Competition, performed his virtuoso and nuanced interpretation of Wolfgang Amadeus Mozart's Piano Concerto No. 18.
The second part of the evening was dedicated to dance and rhythm with the masterful and rhythmic Symphony No. 7 by Ludwig van Beethoven.
This lively anniversary concert once again drew attention to the importance of being committed and united for the cause of the most vulnerable children in the world.