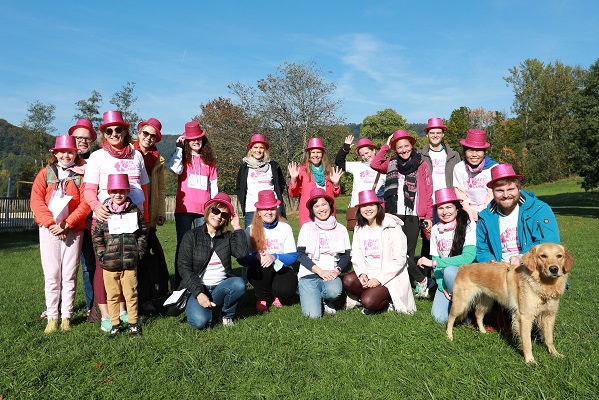 Various teams (including The NETWORK, pictured above) took part in this year's race; Credit: (Above) Nguyen Duy Cu; (below) Think Pink Lux
Luxembourg's third Race for the Cure® event, organised by Think Pink Luxembourg asbl, in collaboration with ThinkPinkEurope, took place on Sunday 10 October 2021 at Echternach lake.
The sun was shining yesterday as over 200 people (and a number of dogs) ran or walked laps around the lake, all in support of breast cancer research. Registered participants have raised around €9,000 for the cause so far, with donations still coming in. Across Europe, over 45,000 participants in 52 races have raised more than €480,000 and counting.
In 2018, Think Pink Luxembourg made the decision to team up with Think Pink Europe to facilitate the exchange of information and best practices on health care and research in Europe with the aim of reducing disparities in access to health care between European countries. The first event, in 2019, was a great success. Last year's event went virtual in the context of the COVID-19 pandemic, with participants sending in photos of their walks and runs from all over Luxembourg. This year, the event was able to go ahead again in person, as a CovidCheck event.
The event was a great success as a result of the efforts of participants, a team of dedicated volunteers, sponsors and cooperation from the Municipality of Echternach and the Echternach Youth Hostel.
Race for the Cure® is a fundraising event that unites people all over Europe. The event is not a race against competitors, but rather a race against time. It is a race to find a cure for breast cancer. Most of the funds raised will remain in Luxembourg for Think Pink Luxembourg projects with 20% of sponsorship going to Think Pink Europe for community projects to help close the gap between treatments in the eurozone.
In its efforts to be more environmentally friendly, Think Pink Luxembourg avoided using plastic number bibs, balloons, single use plastics, disposables and chemical toilets on this occasion. Participants were asked to bring their own drinks as bottled water was not provided.