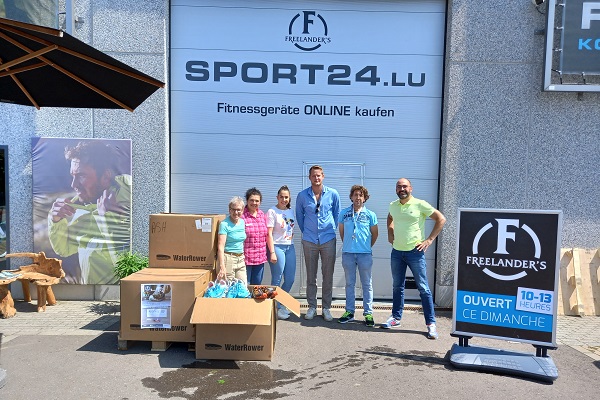 Credit: Stëmm vun der Strooss
On the initiative of Alex Kapp, Director and Founder of Freelander's Group Luxembourg, the Stëmm vun der Strooss non-profit organisation has received a donation of 250 pairs of outdoor and running shoes.
The group's various sales outlets, including Freelander's Mersch, Sportfashion Belle Étoile, Outdoor & Adventure Belle Étoile, Jack Wolfskin Concorde, Belle Étoile and Massen, offered each customer who returned an old pair of shoes a €10 voucher, which is valid for the purchase of a new pair of outdoor or running shoes.
This charity action took place on the weekend of 9 to 11 July 2021. The collected shoes were handed over to the representatives of Stëmm vun der Strooss at the Concept Store by Freelander's outlet in Mersch on Wednesday 21 July 2021.
Stëmm vun der Strooss noted that the collection campaign was a real success, thanks to effective communication throughout the campaign and the good reputation of Freelander's as a sports goods retailer in Luxembourg.
The 250 pairs of shoes, which were still in perfect condition, will be distributed among the non-profit's beneficiaries who visit the "Kleederstuff" in Esch-sur-Alzette and in Luxembourg-Hollerich. The Kleederstuff is one of Stëmm vun der Strooss' professional reintegration workshops, where ten people sort and wash the clothes they receive before redistributing them to those in need.
Freelander's proposed the idea of holding a similar collection in favour of the Luxembourg non-profit in the future.