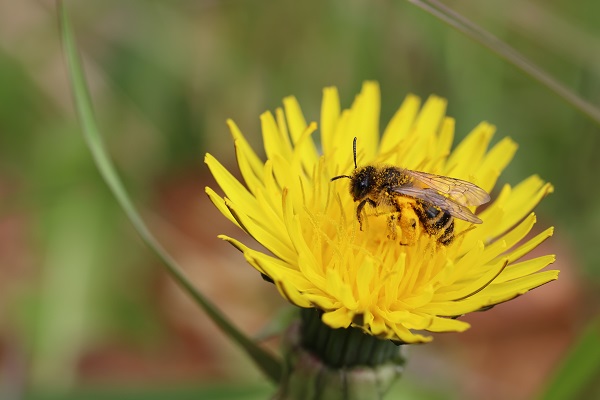 Credit: Bee Together
Bee Together, a group of volunteers whose mission is to raise awareness of the importance of pollinators and biodiversity to the environment and our well-being, has announced several upcoming events.
With the warmer weather, the wild flowers are starting to bloom and the queen bumble bees, hornets and wasps have left their winter hibernation hiding places to search for new homes for the season.
Bee Together recalled that wasps are pollinators and they play an important role in ecosystems by controlling insect populations, although sometimes they decide to make their home in unwanted places. To discourage them from living in the roller shutter boxes, Bee Together stressed the need to raise and lower your blinds on a regular basis from March to end May. Additional advice and a hotline telephone number are available on the natur&ëmwelt website.
Upcoming events
City Nature Challenge (CNC) 2021
The CNC is an annual international event (citynaturechallenge.org), motivating people worldwide to find and document wildlife around them. For the third year, the National Museum of Natural History (natur musée) is part of this global challenge and coordinates the efforts in Luxembourg. From 30 April to 3 May 2021, all observation made using the iNaturalist network anywhere in the Grand Duchy will count towards the final results. Members of the public are encouraged to take pictures of wild plants and wild animals in their garden, their neighbourhood or just anywhere, before uploading them to the iNaturalist smartphone app on or before 9 May 2021 to identify and share what they have found. More information and tutorials on using the iNaturalist app can be found here.
As part of the CNC 2021, Bee Together is organising an outing with the natur musée on Sunday 2 May 2021 at 10:15 in Leudelange to see what wild flora and fauna participants can find to contribute as observations. To join this outing, register on Eventbrite here.
Outings
Outings are also planned for 22 May, 13 June and 4 July 2021 to discover what plants and animals can be found in a wildflower orchard near Syren, in southern Luxembourg. For further information and to register, visit the dedicated Eventrbite page. Bee Together may also organise an outing to observe honey bees living in a log near Filsdorf, in south-eastern Luxembourg.
Introductory Course on Butterflies
On Saturday 12 June 2021, Bee Together and the SIAS biological are organising an introductory course on the butterflies of Luxembourg. The theoretical component will take place in the morning, starting at 09:00. There will be a pause for a picnic lunch (participants should bring their own), after which, depending on the weather, participants will go outside to learn about counting butterfly species. The venue in Grevenmacher will be communicated to those who have registered. Those wishing to take part are asked to register for the event on or before 10 June 2021 by sending an email with their first and last names and the name of the municipality in which they reside to sias@sias.lu. Further information is available on Eventbrite here.
Wild Corner
Dandelions are among the first wildflowers to bloom, providing vital food resources (nectar and pollen) for our pollinators. Perhaps you have an area of your lawn and garden that you can let go wild so that the weeds can bloom for our pollinators and go to seed for our birds. Bee Together has advised that the plants should be left standing for the winter as some insects overwinter in the hollow plant stems.
This "wild corner" provides an opportunity to participate in the "Ee Quadratmeter fir Biodiversitéit" (a square metre for biodiversity) project, an initiative of the natur musée. With stakes / poles and string, members of the public are invited to mark out in their garden an area of one (or more) square metre(s) that they will not cut or mow this year (their plot). These plots will allow the plants to grow and flowers to bloom and the animals that live there to develop. Participants can then take pictures of the wild plants and animals in their garden and upload them to iNaturalist to identify and share them. More explanations are given in the "About" section here.
Save Bees and Farmers!
In addition to organising several events, Bee Together has asked the public to support the European Citizens' Initiative "Save Bees and Farmers!", which calls on the European Commission to propose legal acts to phase out synthetic pesticides by 2035, restore biodiversity and support farmers in the transition. For the Commission to be obliged to consider the proposal, one million signatures need to be collected from European Union (EU) nationals (who are eligible to vote) from at least seven countries. 2,000 signatures are still needed from EU nationals in Luxembourg. To support this cause, visit www.savebeesandfarmers.eu.