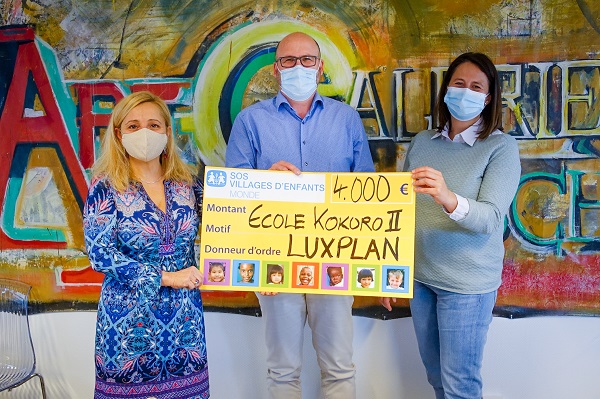 Luxplan donation to SOS Villages d'Enfants Monde;
Luxplan, a member of L.S.C. Engineering Group, has donated €4,000 to SOS Villages d'Enfants Monde for its education and protection programme in the Central African Republic.
Created forty years ago, this consulting engineering firm now offers services in various fields such as roads and various networks, town planning, the natural environment, hydrology, topography, laser scanning, 3D and even GIS.
On 25 March 2021, the Directors of Luxplan, Myriam Hengesch and Jochen Holletschek, invited the Director of SOS Villages d'Enfants Monde, Sophie Glesener, and the Head of Partnerships, Anne Schweizer, for a cheque presentation. While warmly thanking Luxplan for its commitment alongside the association, Sophie Glesener presented the activities of SOS Villages d'Enfants Monde and the emergency education project in the Central African Republic to which the €4,000 will be allocated. The presentation, followed online by Luxplan employees, was extended by a fruitful discussion around the project.
Started at the end of 2020, this rehabilitation project, which forges strong links between protection and education, directly supports more than 1,000 particularly vulnerable students from a public school located near Bangui, the capital. After months of escalating violence and while the situation remains fragile, its activities (renovation and expansion of the school, establishment of community structures dedicated to child protection, psychosocial support and school support) have slowly could resume. Ultimately, students who benefit from a real quality education will be able to study in a safe and inclusive learning environment.