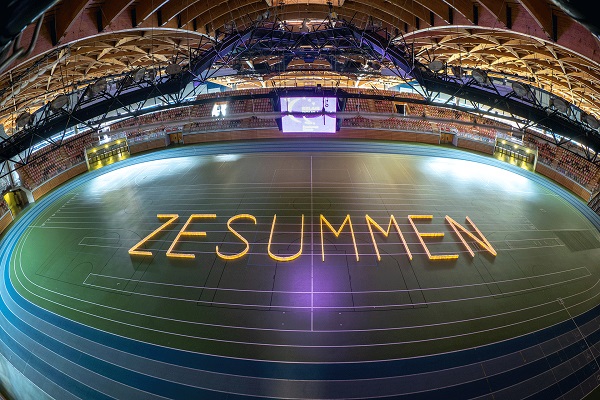 Relais Pour la Vie 2021, Candlelight Ceremony; Credit: © Claude Piscitelli
The online edition of the Relay Pour la Vie 2021 took place over the week-end, on 27 - 28 March 2021, with €614,000 raised to date.
The event was held under the slogan "together and connected" that thousands of people relayed hope across Luxembourg: a demonstration of solidarity as powerful as it is surprising, which reminded people with cancer - and their loved ones - that they are not alone.
This online edition will have been an unexpected success: no less than 423 teams and 10,610 people will have relayed throughout the weekend. However, their solidarity was not limited to their participation; the teams have redoubled their efforts to raise funds for the Cancer Foundation and the sum of €614,000 has been raised to date.
"Such enthusiasm, in such a special time, was already a wonderful surprise, but the generosity of the participants was also expressed in the fundraising, and we are deeply grateful. These thousands of people can say today that they are actively involved in the fight against cancer" commented Lucienne Thommes, director of the Cancer Foundation.
As every year, several teams have been recognized for the excellence of their commitment. They competed in six categories to win a Trophy of Hope:
- Team Italia (category: Country): €8,775
- Lycée Technique du Centre (category: Schools): €5,620
- Allyah (category: Sympathisers): €8,165
- Maison Relais Monnerech (category: Associations and Clubs): €11,308
- Robert Schuman Hospitals - Emergency Department (category: Health professions): €2,490
- Swiss Re (category: Companies and Institutions): €12,570
The high points of this Relay Pour La Vie 2021 were the two livestreams, during which several guests of honour spoke. Among them, HRH the Grand Duchess, European Health Commissioner, Stella Kyriakides, and Prime Minister, Xavier Bettel - see the Livestream replay on www.relaispourlavie.lu/livestream-2021.
"These livestreams have enabled us to highlight the strong and moving moments which are the very essence of each relay" commented Carole Bauer, President of the Cancer Foundation.