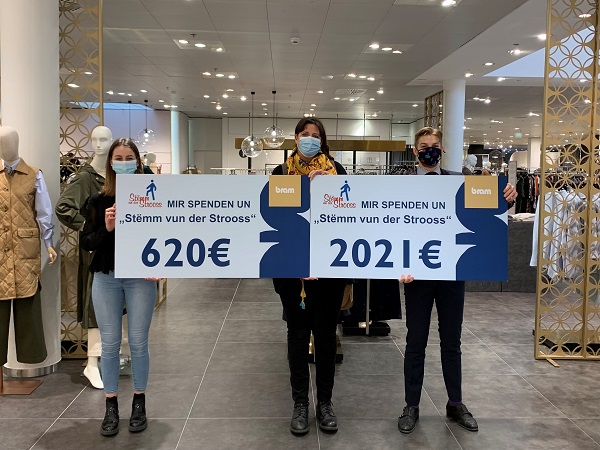 Credit: Stëmm vun der Strooss
The BRAM boutique in the City Concorde Lifestyle Center has donated over €2,600 to Stëmm vun der Strooss, a Luxembourg non-profit association which supports homeless people and vulnerable members of society.
Accompanied by BRAM's apprenticeship representative, Natascha Bedinger, a team of eleven apprentices hired for a three-year period in the boutique's sales, alteration and decoration departments recently presented Alexandra Oxacelay, Director of Stëmm vun der Strooss, with a first cheque worth €2,021, collected from gift wrapping during the festive season, and a second cheque worth €620, collected through in-store actions.
Natascha Bedinger explained: "As the festive season approached, our apprentices wrapped Christmas presents for our customers in support of the Stëmm vun der Strooss association. We are therefore very proud today to be able to contribute to the construction of a covered and heated terrace in the Hollerich social restaurant".
Alexandra Oxacelay added: "We thank you wholeheartedly for your participation in defending the interests of people who are excluded or at risk of exclusion. We will finally be able to set up the terrace of the Hollerich social restaurant at 7 Rue de la Fonderie".
Due to the health crisis, the social restaurant in Luxembourg-Hollerich can currently only accommodate fifteen people at a time, for a limited period of 30 minutes. To cope with this precarious situation, the creation of a covered and heated terrace will not only increase the capacity but is also expected to improve the comfort of those who rely on this service, especially during the winter period.
Anyone wishing to support this initiative can make a donation at www.gingo.community.