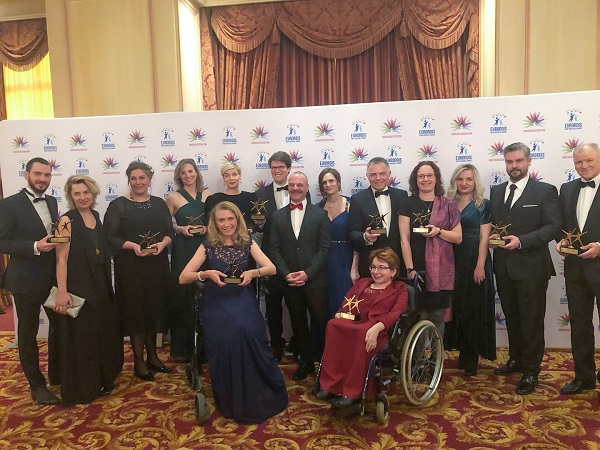 Black Pearl 2020 Awardees; Credit: ALAN Maladies Rares Luxembourg
The NGO "ALAN - Maladies Rares Luxembourg" yesterday received a Black Pearl Award, which is presented annually by EURORDIS, the European Organisation for Rare Diseases, to recognise individuals and organisations who have made exceptional contributions to the field of rare diseases.
On Tuesday 18 February 2020, during the EURORDIS Black Pearl Awards ceremony at Hotel Le Plaza in Brussels, ALAN - Maladies Rares Luxembourg received the prize in the "EURORDIS Members Award" category in recognition of its commitment and its efforts to improve the quality of life and the autonomy of individuals and families affected by a rare disease.
According to a recent study, around 5% of the world's population lives with a rare disease, which represents 30,000 people in Luxembourg. Rare diseases are generally chronic and progressive, and there are very few medications and treatments. In addition to the lack of therapy, there is often a lack of information, expertise and coordination.
To support those affected, as well as their families, ALAN offers a free and tailor-made psycho-social consultation service, among other things. The interdisciplinary team offers administrative, social and psychological support to inform, guide and assist those concerned in several fields including, in particular, access to health care, administrative procedures, social rights, education, work, family life and social inclusion. In addition, ALAN offers a range of adapted recreational and sports activities to promote the participants' well-being, confidence and self-esteem.
At this year's Black Pearl Awards, EURORDIS has recognised these services and the association's commitment to better recognition and political change at the national and European level. Since 2012, EURORDIS has organised a gala ceremony to recognise the achievements and exceptional commitment of patient advocates, patient organisations, policy makers, scientists, businesses and the media who aim to make improvements for people with rare diseases.
During her acceptance speech, Shirley Feider-Rohen, President of ALAN, stressed that "it is thanks to the dedication, tenacity and support of many partners for over 20 years that ALAN has today the privilege of receiving this prestigious award".
The Black Pearl Awards are always organised in February, since Rare Disease Day takes place every year on the last day of February, in order to raise awareness among the general public and political decision-makers about rare diseases and their impact on the daily lives of patients. Under the aegis of EURORDIS, thousands of people around the world will come together on 29 February 2020 to launch awareness-raising actions and events.
In Luxembourg, the following events are organised as part of Rare Disease Day 2020: the annual presentation of the progress of the National Rare Disease Plan at Forum Da Vinci on 28 February; ALAN quiz evening in Holzem on 29 February; and an information stand and awareness-raising actions at the Centre Hospitalier du Nord on 4 March 2020.