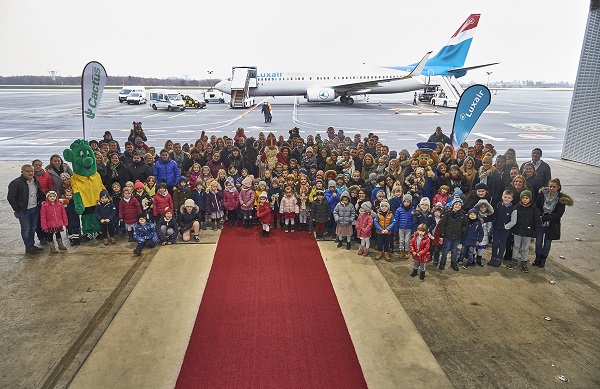 Credit: Cactus
On Sunday 1 December 2019, Cactus and Luxair flew 93 children to meet Saint Nicholas following their annual drawing competition.
The 93 chosen children, accompanied by a parent or guardian, met the "Kleeschen" at flight level 210, that is to say 6,400 metres above the ground.
The morning began with Yuppi and LUXi, the mascots of Cactus and Luxair Luxembourg Airlines respectively, welcoming the children for an unusual adventure. Selected at the Saint Nicholas drawing contest, the children flew aboard a Boeing 737-800 to meet the "Kleeschen". After a photo session with the mascots, the children boarded the plane.
Once in the air, the children sang the "Leiwe Kleeschen" Christmas carol, before the pilots were able to spot Saint Nicolas flying between the clouds on his sleigh. Moments later, the "Kleeschen" appeared on the plane and greeted all the children, thanking them for their drawings.
Back on the ground, Saint Nicholas gave each child a present, before they headed home.
To participate in the competition, the children previously submitted an application form filled with their drawings of toys in the Cactus catalogue. The winners were then chosen from a draw.