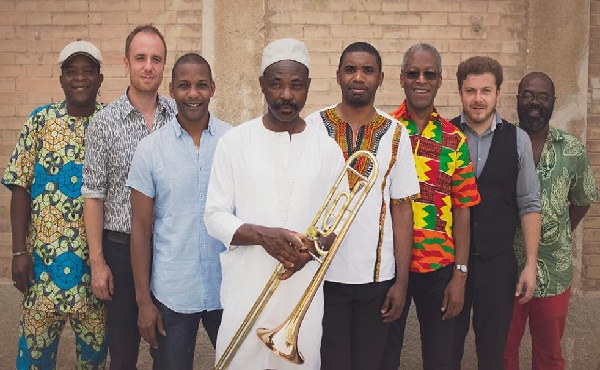 African Salsa Orchestra; Credit: Rocio Belmonte
To launch its 50th anniversary celebrations, the Luxembourg development NGO Action Solidarité Tiers Monde (ASTM) is holding a concert by the African Salsa Orchestra at the Kulturfabrik in Esch-sur-Alzette on Friday 15 November 2019, from 19:30.
Created in 2014 by Beninese singer, trombonist and composer Michel Pinheiro and French trumpet player and arranger Florent Briqué, the African Salsa Orchestra combines African and Cuban music. Through his songs, Michel Pinheiro evokes the problems of the daily life of Beninese people and more broadly those of the peoples of Africa. He pays homage to women, to their native country: Benin. He denounces opportunism in a continent eaten up by the inactivity of some politicians and also talks about malaria and AIDS.
The orchestra brings together musicians of Beninese, Ivorian, Cameroonian, Cuban, Congolese and French origins: Michel Pinheiro (vocals, trombone) and Vincent Echard (trumpet), accompanied by Elvis Ponce Ramos (vocals, percussion), by Willy Ombe (percussion), Patrick Bebey (piano), Jean-Richard Codjia (conga), Pierre Yves Desoyer (bass) and Florent Cardon (trumpet).
The African Salsa Orchestra concert promises to be full of colour, rhythm and dance. Nicole Ikuku, general coordinator of ASTM, explained: "As the launch of ASTM's 50th anniversary festivities, we wanted to associate music with dance, have a friendly and festive moment, and for all those who would like to try dancing, the concert will be preceded by an introduction to salsa dance with Reuben from LETZSALSA Luxembourg as well as a warm up for the intermediates.This will give an excellent opportunity to all the guests to enjoy the songs by moving to the rhythm of the salsa throughout the evening".
Michèle Hemmer, head of the cultural agency of ASTM, added: "Bringing Michel Pinheiro's African Salsa Orchestra to Luxembourg for our 50th anniversary is an honour and a pleasure. The orchestra expresses values ​​we are very attached to. With its cultural agency, ASTM has been committed since 1989 to more respect and tolerance through culture. This bridge that the orchestra installs between African and Cuban cultures is a symbol of tolerance, respect and mixing between cultures and living together".
Doors open at 19:30 with the warm-up and salsa introduction starting at 20:00. The concert will start at 21:00, followed by a dance party with DJ LadySalsa.
Pre-sale tickets cost €15 at the Kulturfabrik or on the website kulturfabrik.lu. Tickets are also available on the evening itself.