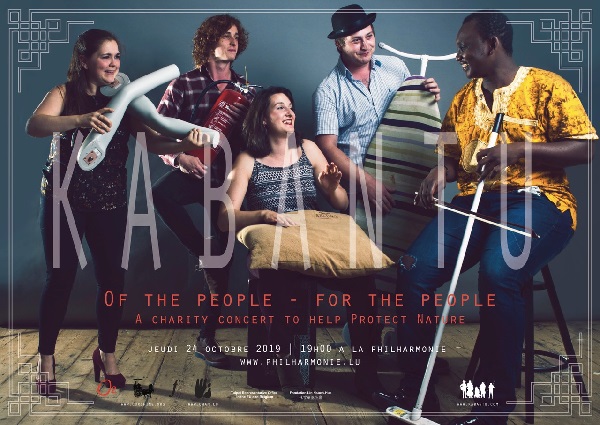 Kabantu; Credit: Fingertips ASBL
The non-profit organisation Fingertips has announced that it is holding a charity concert on Thursday 24 October 2019 at 19:00 at the Philharmonie Luxembourg.
On this occasion, critically acclaimed British band "Kabantu" will take the stage to raise funds for the preservation of wildlife in Taiwan.
Kabantu is a Manchester-based, five-piece world music band that celebrates music across countries, cultures and genres while embracing the joy of music-making with their own unique style and form. Critics have praised the band for their refreshing global experimentalism, immaculate five-part harmonies and exceptional musicianship.
The band has performed extensively across the UK, including at the BBC Proms in Royal Albert Hall and at the renowned Cambridge Folk Festival. The upcoming concert, organised by Luxembourg-based non-profit organisations Fingertips and the Association Culturelle Chinoise de Luxembourg, will be the band's first performance in Luxembourg. All proceeds will go to "Wilderness Foundation Formosa" whose work protects wildlife in Taiwan.
Previous projects supported by Fingertips included raising funds to plant 230 trees in the rainforest of Costa Rica in collaboration with rainforest.lu and gathering over €5,300 to help the homeless in cooperation with Caritas Luxembourg.
The founder of Fingertips, Chiahu Lee, commented: "This is a dream come true for me. Since I heard Kabantu for the first time, I have been wanting to get them to play in my hometown, Luxembourg. Their talent speaks for itself - this will be an unforgettable evening for all who join us!"
Tickets for the concert are available at the Philharmonie Box Office, online at http://www.philharmonie.lu or via tel.: 263-22632. Tickets cost €20 or €5 for under-27s.