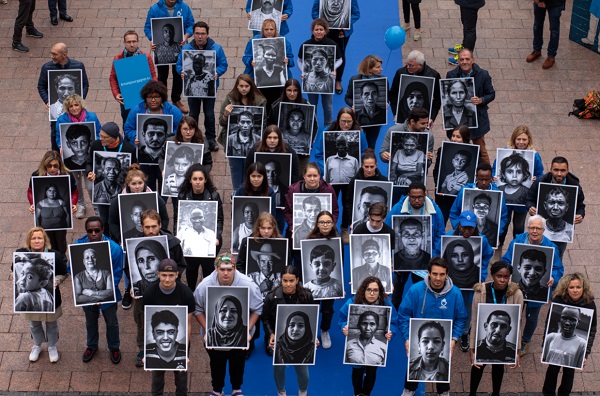 Flashmob in Place d'Armes; Credit: HI / Matic Zorman
On Saturday, Handicap International held the 20th edition of its annual Shoe Pyramid in Place d'Armes in Luxembourg-ville.
Numbers were reportedly high despite the rain, as members of the public joined the NGO in mobilising against the use of explosive weapons on civilians.
In addition to the traditional shoe pyramid, Handicap International installed a 25-metre interactive mural and life-size sets, including a bombed living room and hospital room, to raise awareness of the consequences of using such weapons.
On the subject of political engagement in this domain, Martin Lagneau, Director of Handicap International Luxembourg, explained: "After four years of work, we have never been so close to getting a strong political commitment. 133 states, including Luxembourg, met in Vienna this week to agree on a joint declaration against the use of explosive weapons in populated areas". According to the NGO, this would be a strong signal from the international community to countries that do not respect humanitarian law.
Indeed, as part of its "6 Mois pour Gagner" campaign, Handicap International has asked the public to sign their names to template e-mails (on www.6moispourgagner.lu) putting pressure on Luxembourgish politicians to support the diplomatic process launched in Vienna. According to Hélène Lo Presti, Head of Development Education and Awareness: "There have been 286 signatures so far for 2,329 e-mails sent to MPs".
A flashmob in support of victims closed this year's event.