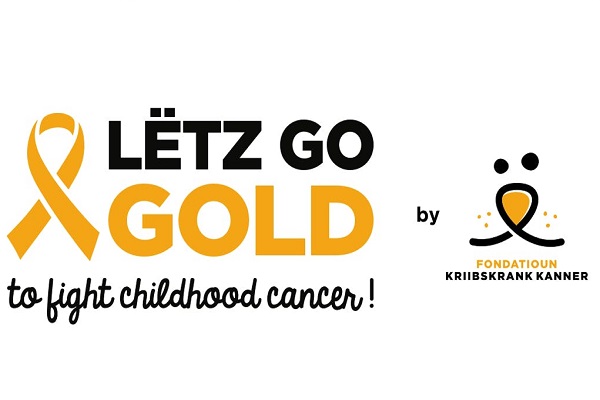 The Fondation Kriibskrank Kanner, a Luxembourgish charity for children with cancer, has announced that it will be holding the second edition of its "Lëtz Go Gold" charity race on Saturday 28 September 2019 at Kockelscheuer.
This year, the race will again start from the Lëtz Go Gold village near the ponds of the Kockelscheuer Ice Rink, where they will mobilise to fund research aimed at eliminating paediatric cancers.
The race is based on the minimum collection concept, meaning that participants are required to collect a minimum of €200 (€100 for under-18s and students under 25) between now and September in order to take part in one of the four courses: 1.5km for those with reduced mobility, a 5km walk and 5km or 10km running. Participants have already collected €82,624 ahead of the race.
During the first edition in 2018, 580 people raised €275,000 (exceeding the expected amount of €200,000). The proceeds went towards two projects: the first, conducted in partnership with the University of Luxembourg, aimed at learning more about the exposure of pesticides and its link with paediatric cancers; the second, conducted in partnership with the Luxembourg Institute of Health (LIH), aimed at identifying a new therapeutic combination in order to destroy the cancer cells of high-risk neuroblastomas in a less toxic way.
For the 2019 edition, held once again during the childhood cancer awareness-raising month of September, the Fondation Kriibskrank Kanner hopes to welcome 1,000 participants and raise €500,000. These funds will finance the continuity of the first two projects initiated in 2018 as well as the European project "E-SMART".
Anne Goeres, Director of the Fondation Kriibskrank Kanner, explained: "E-SMART is a unique project in the world for all children with cancer or leukaemia who have relapsed or failed treatment. This project is co-financed in particular by the solidarity race Lëtz Go Gold, but also the two races that take place the same weekend in Paris and Brussels".
The project gives children access to new and innovative treatments. This trial is currently open in seven European countries and young Luxembourgish patients can benefit from it through the main promoter in Paris.
To register for this year's race, visit www.letzgogold.lu.