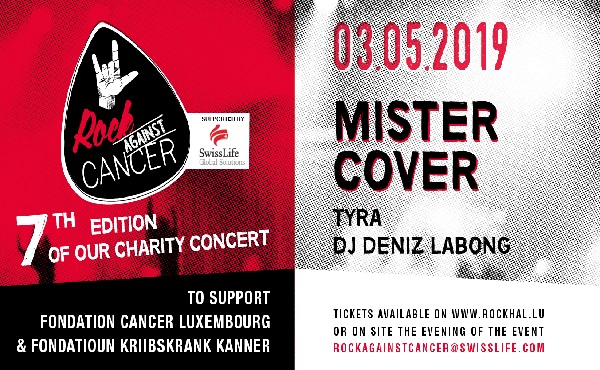 On 3 May 2019, the 7th edition of Rock Against Cancer once again made the Rockhal walls shake for a good cause; the event raised an estimated €30,000 for charity.
This year's Rock Against Cancer, organised by a group of Swiss Life Global Solutions' employees, was once again a great success. Over 400 people of all ages attended the charity concert and danced and sang along to some of the biggest rock, pop and soul hits of the last decades thanks to Belgian band Mister Cover.
For his part, DJ Deniz Labong, hosted part of the evening with different mixes at the beginning and end of the concert, whilst new talent Tyra also put on a great performance with her own musical style. The evening also brought together seven exhibitors at the Wine and Food Tasting session prior to the concert.
For the seven years during which this fund-raising initiative has been running, all proceeds collected by Rock Against Cancer have been entirely donated to two Luxembourgish charities: Fondation Cancer and Fondatioun Kriibskrank Kanner, both of which support children fighting cancer. Since its creation in 2013, Rock Against Cancer has already collected €140,000 and this year, €30,000 was added. The presentation of the cheque ceremony will take place on 2 July 2019 with all the main sponsors in attendance.

Preparations for next year's edition are already under way for 15 May 2020.