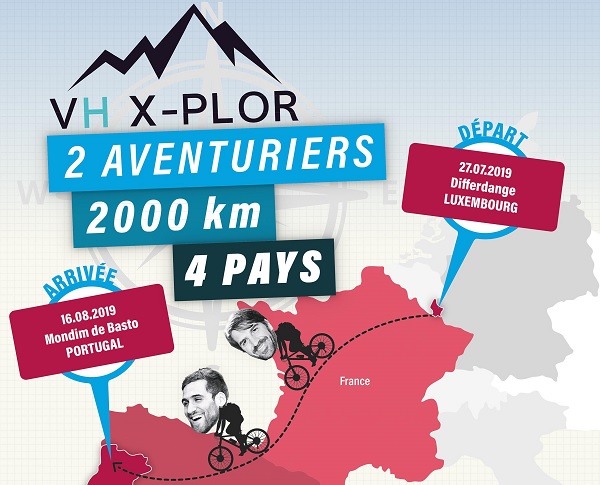 The Luxembourg Autism Foundation (FAL) has announced details of a sporting challenge called VH X-PLOR which will take place this summer, on Saturday 27 July 2019.
Two friends, Victor and Helder, decided to connect the city of Differdange (Luxembourg) to Mondim de Basto (Portugal) by bicycle. They have already done kayaking trips and participate regularly in foot races. The departure will take place on 27 July 2019 and the arrival is scheduled for Friday 16 August 2019 in Portugal. They decided to involve the Foundation in this challenge and take this opportunity to raise awareness of autism and raise funds for the Foundation.
Victor is an entrepreneur in Luxembourg. He is a partner in a roofing company and a real estate agency. He is directly concerned by the handicap because he is the father of a small boy who is autistic. The sporting challenge flowed from his long-time friend. But he found that it would also be interesting to link a beneficent component by making an organisation in Luxembourg benefit from his efforts.
Helder is employed in trading at a company abroad. He likes sports and he immediately warmed to the idea of ​​cycling a long distance. Although not directly involved, he also supported his friend's initiative to raise awareness about autism.
Various companies have already provided their moral and financial support and the FAL hopes that many people will still come to support this project. A Facebook page has been created that already has nearly 600 people following it. the FAL also has the support of the City of Differdange and the mayor of the city of arrival in Portugal.
On the 27 July, the day of departure, activities (Bambini cycle tour, music, Teqball, Back to sports, bouncy castle, etc.) are planned on the market square in Differdange and the Foundation will also be present with information stands. Three bicycle tours to accompany Victor and Helder will be organised from 10:00. The FAL will also be present with a stand.