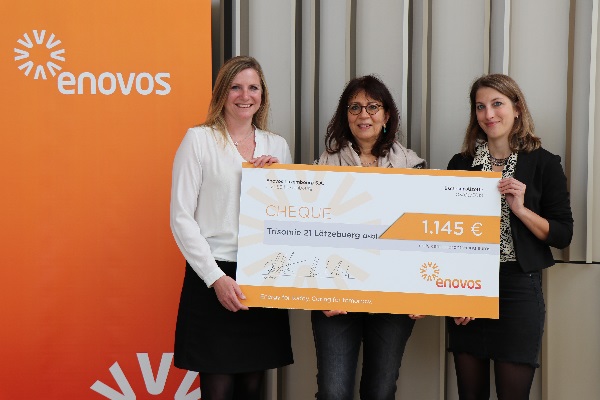 L-R: Amélie Geisen (Enovos Luxembourg); Martine Eischen (Présidente Trisomie 21 Lëtzebuerg); Carol Mousel (Coordinatrice Trisomie 21 Lëtzebuerg); Credit: Enovos
On 21 March 2019, Enovos took part in the "lots of socks" initiative for World Down Syndrome Day; the foundation raised €1,145 for the Trisomie 21 Lëtzebuerg association.
On this occasion, Enovos invited internet users to post a photo of their feet on the Enovos Facebook page with mismatched socks in order to promote difference and diversity. Each photo posted equaled a gift from Enovos for Trisomie 21 Lëtzebuerg. Thanks to the many participations, Enovos was able to present a cheque worth €1,145 to the association.
Enovos encompasses the values ​​of inclusion, equality and respect for everyone in order to fight against exclusion.