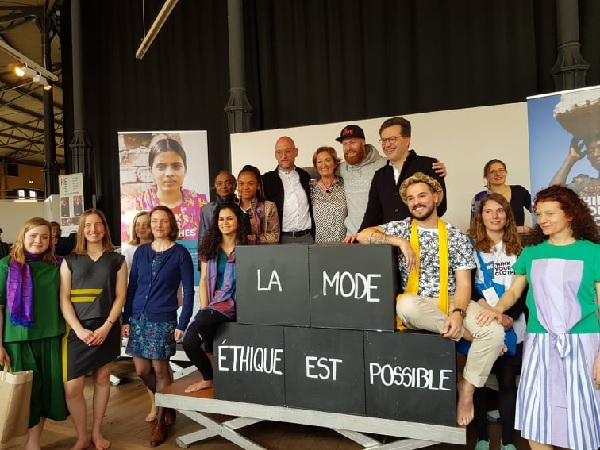 Credit: Jazmin Campbell
Friday saw the opening of the three-day Fair Fashion Days event, organised by the NGO Fairtrade Lëtzebuerg and the Caritas Foundation, in Rotondes, Luxembourg.
The event, launched as part of the Fairtrade Lëtzebuerg and Caritas Luxembourg "Rethink Your Clothes" campaign with the support of the Ministry of Foreign Affairs (Cooperation), opened with a theatrical interpretation and fashion show featuring students dressed in "fair" fashion.
Representatives of the organisers then presented the project as well as the unacceptable working conditions in which employees in the textile industry in countries such as Bangladesh are forced to work to produce more and more clothes. A representative from Caritas Bangladesh, a partner of Caritas Luxembourg, explained that whilst the textile industry has positively contributed to the Bangladesh economy and wages have increased slightly in recent years, working and living conditions for these (predominantly female) workers remain poor and salaries are still unacceptably low. In response, he proposed that national and international politicians and big brands demand factory owners comply with regulations on work safety and salaries.
For her part, guest speaker Paulette Lenert, Luxembourg Minister of Cooperation and Humanitarian Action and Minister of Consumer Protection, discussed how production in the textile industry doubled in the past twenty years, whilst clothes continue to be thrown away. For instance, in Germany, people discard one million tonnes of clothing annually, according to Minister Lenert. She similarly highlighted the unacceptable production conditions that continue in countries like Bangladesh, before concluding that it is everyone's responsibility, including that of politicians but also consumers, to change this situation by informing themselves and thinking critically before purchasing clothes. Minister Lenert finally emphasised the need to invest in research to develop new products, not only for the textile industry but for the environment as a while.
Fair Fashion Days is open to the public from 5-7 April 2019. The Rethink Your Clothes campaign aims to offer new perspectives to consumers on more ethical and responsible purchases.