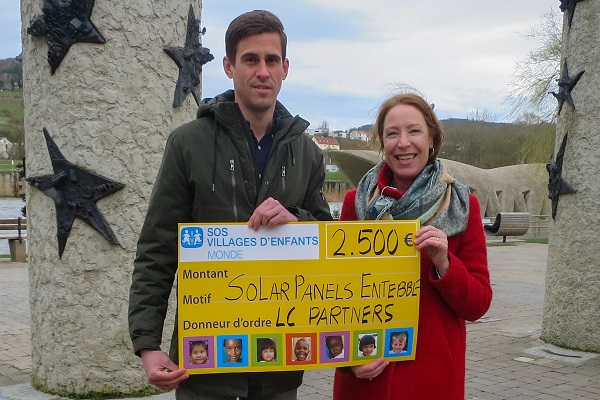 Credit: SOSVEM
Luxembourg Consulting (LC) Partners has donated €2,500 to the association SOS Villages d'Enfants Monde (SOSVEM) for a project in Uganda in East Africa.
On 12 March 2019, Eric Blank and Mathias Palmer, Partners of LC Partners SA, presented a cheque for €2,500 to Anne Schweizer, Partnerships Manager of the Luxembourg association SOSVEM, in Schengen. This sum will contribute to the installation of solar panels in the SOS Children's Village of Entebbe.
SOS Children's Village Entebbe has twelve family houses for 150 children. In the surrounding area, the SOS Children's Garden welcomes more than 200 children from the community and an SOS Medical Centre provides over 3,000 services a year. A further 800 children and adolescents and their 200 families receive support from a Family Strengthening Programme, which is a community outreach programme.
Solar panels, as a source of clean and cheap energy, will greatly benefit the daily lives of those living in the village, especially for children who can do their homework in the evening and thus increase their school performance. About 20% of Uganda's 35 million people still live in poverty, especially in rural areas where they survive through agriculture but are affected by climate change and often produce less food than needed for their families. The quality of education also requires improvement, according to SOSVEM, with only one in four children finishing primary school.
At the end of 2018, the LC Partners team decided to give up the end-of-year gifts for its clients in order to support the Luxembourg association SOSVEM's work in Uganda. This money will go towards improving living conditions, especially for children.