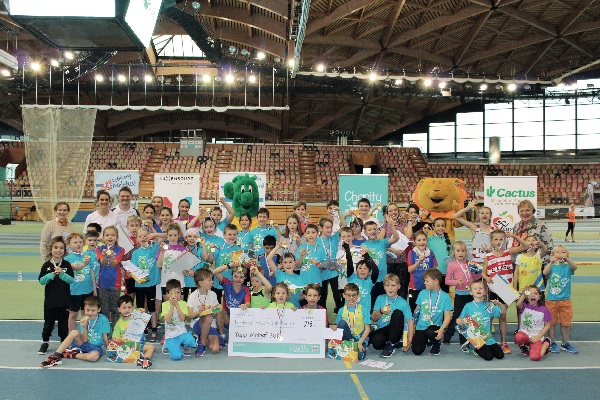 Credit: Cactus
The 2018 edition of the Yuppi Mini-Laf raised a total of €916 for the Fondatioun Kriibskrank Kanner.
On 12 January 2019, Yuppi, with his loyal athletes, presented a cheque worth €916 to representatives of the Fondatioun Kriibskrank Kanner at the Coque in Kirchberg.
The 2018 Yuppi Mini-Laf, a series of fun children's races organised by Cactus in collaboration with the Luxembourg Athletics Federation (FLA), has officially ended on a philanthropic note with the presentation of this cheque. The commitment of Yuppi Mini-Laf's younger runners raised the sum of almost €1,000 which will go towards supporting sick children; Cactus pledged to donate €1 for each stamp collected on the Yuppi Mini-Laf notebook.
Yuppi took the opportunity to honour those runners who collected the most stamps throughout the season. 67 children were invited to this ceremony, during which Yuppi gave them a nice gift as well as a certificate of participation and a medal to reward them for their exemplary efforts and solidarity with sick children. Before the cheque presentation and prize-giving, the young athletes were able to let off steam all morning in the numerous sports workshops set up and supervised by FLA volunteers.

Yuppi and Poldi, the mascot of Fondatioun Kriibskrank Kanner, thanked all the children who ran at least once for this good cause during the 2018 season. The children, aged 5-12, may also participate in "Laf fir d'Natur" on 5 May 2019 in Kockelscheuer, the first meeting of the 2019 Yuppi Mini-Laf season.