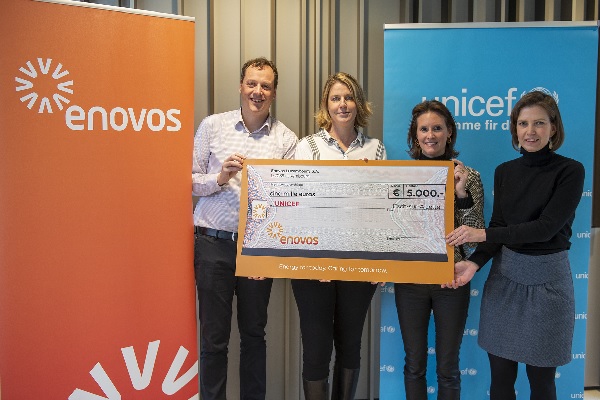 L-R: Kim Hermes and Danny Bonifas (Enovos) and Anne-Catherine Richard and Nathalie (UNICEF) in Wohlfart; Credit: Encevo
Enovos has presented a cheque for €5,000 to UNICEF Luxembourg to support the fight against child malnutrition in Yemen.
As a long-time partner of UNICEF-Luxembourg, Enovos has donated this sum towards the humanitarian organisation's project in Yemen. After four years of conflict, the country's situation continues to deteriorate and children are paying the price for this war.
Nearly 11 million children require help. Due to the difficult access of humanitarian and food aid, an estimated 1.8 million children do not have access to adequate nutrition and are at risk of acute malnutrition. Among them, there are 400,000 children with severe acute malnutrition putting their lives directly in danger. Even if they survive, the physical and mental health of these children may be affected for life.
The simple and effective treatment for malnutrition is based on a peanut-based energy paste used by UNICEF. The organisation has hilghlifhted that this dough is inexpensive and can save the lives of thousands of children. Despite significant problems of insecurity, UNICEF remains one of the few organisations still able to access the hardest hit areas of the country.