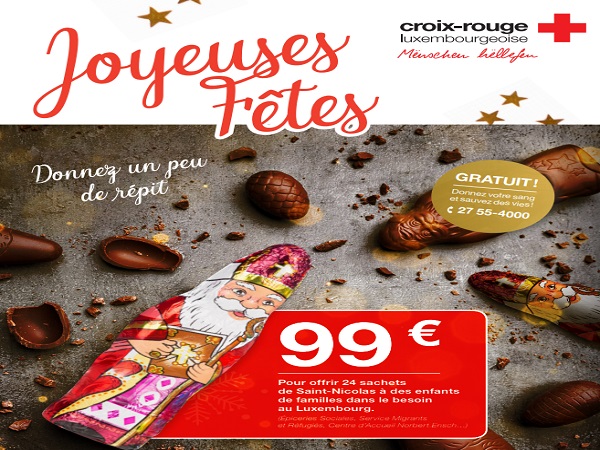 Credit: Red Cross
The Luxembourg Red Cross has just launched its end-of-year campaign aimed at making the month of December 2018 the month of solidarity.
From Christmas to New Year's Eve, the coming weeks will be rich in sharing with family and friends. The holidays, however, are not a happy time for everyone. Too many vulnerable people, in Luxembourg and abroad, will not benefit from this period. As such, the Luxembourg Red Cross has published a catalogue for donations for presents for those in need this festive season.
As Luc Scheer, Head of Communication and Fundraising, explains: "it allows us to show the concrete needs of the people we support and the wide variety of our fields of expertise. The products we present all have one thing in common: without donations, we would not be able to finance them. Without the generosity of Luxembourgers, our ability to help vulnerable people to live in dignity and independently would be greatly diminished."
The needs of course go beyond the twenty examples presented in the leaflet and as such, the public is encouraged to donate not only money but also time to this cause, for instance through volunteer work in initiatives such as the recently launched Wanteraktioun.
In any case, the sums collected in this end-of-year campaign will not be allocated to a specific cause, but will allow the Red Cross to act quickly according to changing needs.
For more information, visit www.croix-rouge.lu.