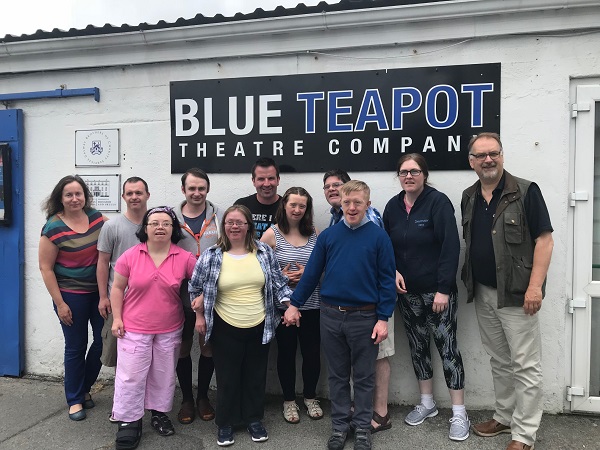 members of the Blue Teapot Theatre Company in Galway, Ireland;
Following its Sponsored Walk on Sunday 6 May 2018, the Irish Club of Luxembourg made a donation of €500 to the Blue Teapot Theatre Company based in Galway, Ireland.
The Blue Teapot Theatre Company is a multi-award winning Theatre Company, Performing Arts School & Outreach programme for people with intellectual disabilities at the forefront of arts & disability in Ireland. It is committed to high quality theatre, training and the celebration of creativity. Its mission is to effect positive change in public consciousness concerning people with intellectual disabilities through the medium of theatre, allowing its members' inherent talent and creativity to speak for itself. Since 2016, this artistic remit has expanded to the medium of film, of which the feature film "Sanctuary" directed by Len Collin involved the company actors.
The money donated will go towards the direct arts training provision of 16 adults with intellectual disabilities and allocated towards the training of cast for a brand new theatre production this Christmas entitled "Oliver Twists", a comedy adaptation of the Dickens classic by Rod Goodall.
Geoff Thompson, President of the ICL, visited the Blue Teapot Theatre Company during rehearsals and spoke with members of the cast as well as with Sonja Brodie, General Manager, who thanked the club by stating "On behalf of Blue Teapot Theatre Company, we would like to extend heartfelt gratitude to you, members and connections of the lrish Club of Luxembourg in appreciation for the donation received from your sponsored walk, and for nominating Blue Teapot is this year's beneficiary."