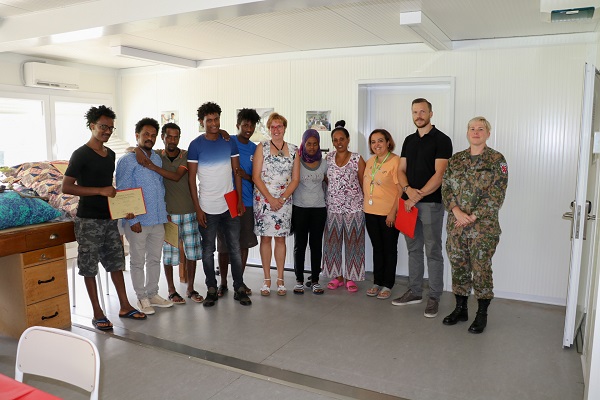 Luxembourg Army presents certificates for Sewing Workshops; Credit: Caritas Luxembourg
On Wednesday 8 August 2018, certificates were awarded to refugees who participated in sewing classes led by the seamstresses of the Luxembourg Army at the refugee shelter in Diekirch.
Three seamstresses from the Luxembourg Army took turns every Wednesday morning from April to July to run a four-hour sewing workshop, in which seven refugees, both women and men, participated assiduously.
"These classes have taught me a lot of things. Thank you to the Luxembourg Army," said Nura, one of the refugees who participated in the workshop series. "I discovered couture through this workshop. Maybe one day I could work in this area. In any case, I will return next year if I am still in this home" said Zenebe, another refugee who attended the workshop series. On the trainers' side, the echoes are also very positive.
During the presentation of the certificates to the participants, Benoît Ney, coordinator of homes at Caritas Luxembourg, warmly thanked the Luxembourg Army for this great project. "We are very happy to have Diekirch as a neighbour to the Army. It is a very caring neighbour and always ready to help."