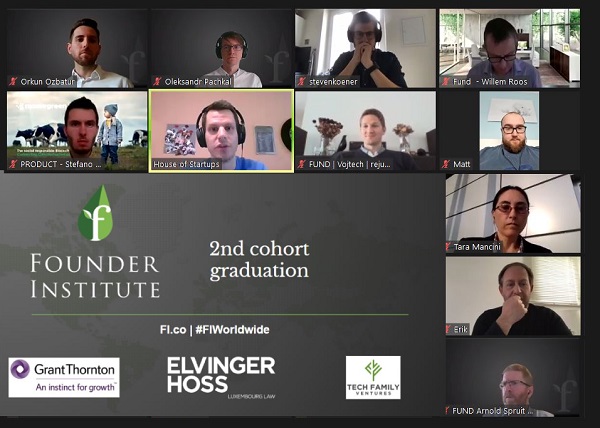 On Wednesday 13 May 2020, The Founder Institute, the world's largest pre-seed startup accelerator, held its second graduation in Luxembourg; together with its partners - Elvinger Hoss Prussen, Grant Thornton, Tech Family Ventures - Founder Institute Luxembourg welcomed industry leaders, media and investors to their online "Demo Day''.
Due to the COVID-19 pandemic and state of emergency, the event was held remotely by videoconference.
Among the keynote speakers, the event welcomed Philippe Linster (CEO at House of Startups Luxembourg), David Holland (Mentor, Coach, Founder Results Rules OK) and Steven Koener (International Affairs Advisor at Luxembourg Chamber of Commerce).
The companies graduated from the Founder Institute (FI) Luxembourg span across multiple industries such as Renewable Energy, Sustainable Investing, Artificial Intelligence, Aviation, Education, FinTech, Legal Tech, Social, Travel & Tourism and more.
Many of the world's fastest-growing startups have used the Founder Institute to transition from employee to entrepreneur, test their startup ideas, build a team, get their first customers and to raise funding.
Over the last two years, local Founder Institute Directors have supported the local Luxembourg startup ecosystem by activating the aspiring founders to build business that matters. The alumni of the programme participated in numerous startup contest events including Fit 4 Start acceleration program and CES.
Founder Institute is an extremely challenging startup accelerator programme, where graduating is a significant achievement. Within both cohorts in Luxembourg, 389 candidates applied to the programme, 66 of them were accepted and 12 graduated. So, given the high drop out rate, only those who persevered through the challenging months are recognised with gradution.
The following companies, a selection from both cohorts, presented at the graduation:
● LëtzBiofuels Biodiesel and renewable diesel are used as a replacement or blended with petroleum diesel which is used in trucks, ships, and diesel generators. LetzBiofuels will convert waste grease into a low-cost feedstock, which can then be processed into biodiesel or renewable diesel. Domestic biofuel factories are competing with foreign imports, our low-cost feedstock will allow them to secure a larger share of the market.
● Moovegreen's mission is to make an impact on global warming causes by reducing greenhouse gases from agriculture, investing in advanced agricultural practices.
● ChefPassport is a web and mobile application to connect cooking lovers with local cooks and chefs around the world to deliver live streaming private cooking classes.
● Hitblu is a universal air charter search platform facilitating private jet booking worldwide.
● Legal Finder provides a booking platform to help clients find lawyers in a couple of minutes with all the relevant information given, including other clients' recommendations. It also helps lawyers attract new clients online.
● Rejustify helps economists and financial analysts to get and merge data from multiple sources at a few clicks. It saves 75% of the analyst's time and reduces errors.
The Founder Institute is the world's largest pre-seed startup accelerator. Since 2009, it has helped over 4,000 startups raise over $950M and build some of the world's fastest growing companies. Based in Silicon Valley and with chapters across 70 countries, the Founder Institute's mission is to empower communities of talented and motivated people to build impactful technology companies worldwide. For details, see www.fi.co/s/luxembourg.