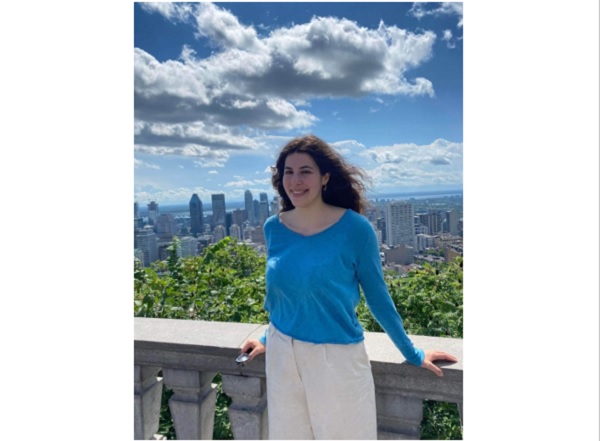 Elise, Luxembourg-based professional cuddler;
Chronicle.lu recently interviewed Elise, a cuddle therapist in the process of setting up her business "The Cuddler's Corner", based in Luxembourg-Merl, and who is raising awareness about the therapeutic benefits of touch.
Although it is "new territory" for her, after studying philosophy and French at university and working as a French and English teacher (in public schools and private tutoring), she felt that something "clicked" when she first found out about professional cuddling. A professional training course in Leipzig confirmed her intuition that this was right for her. Elise began offering her own cuddle therapy sessions in Luxembourg in January 2023.
"To me, this is something beautiful you can share with any human being, as long as both people respect each other and want what is best for one another," she noted, clarifying that many people ask her if it is not uncomfortable to do this with strangers. In fact, to be a professional cuddler one needs to provide "a safe space for people" and be capable of navigating a client's potential bodily and expression "blockage". Another professional challenge is that most people have not heard of cuddling therapy, so as Elise specified: "you need to do a lot of ground work to become known". In fact, this is a more widely known therapy form in the United States than in Europe. However, Elise expressed confidence that it will become more accepted in future, just as massage therapy or psychotherapy have become. In the long term, she plans to make her trade name "The Cuddler's Corner" an organisation promoting cuddle therapy and emotional well-being in Luxembourg.
She noted that Luxembourg attracts foreign professionals who may find themselves feeling lonely or at risk of burnout due to professional stress. This can be an issue especially for men who may feel afraid and ashamed of showing their need for touch, even though they experience "touch hunger" as well.
Cuddle therapy is known as an alternative therapy, and according to Elise: "The [vast] majority of clients with serious mental health problems engage in cuddle session parallel to their psychotherapeutic treatment." She is not a licensed psychologist or psychotherapist, but she does practice "active listening" when a client has something they need to share. "Cuddle therapy provides a healing, bonding experience," she explained, adding that there is no strict script to how a session will unfold. There are set procedures to be followed beforehand, however: each session starts with a ten-minute conversation about expectations and boundaries, and a chance to decide if the client and cuddle therapist are the right fit. "It's important that we both feel at ease with each other," she noted, and a set of rules need to be signed before proceeding. There is a separate room where clients can change into more comfortable clothes for the session.
Elise described a typical session as follows: "We start by holding hands, and the first positions I will suggest to them usually don't involve a lot of body-on-body contact. […] Most people overcome their initial nervousness pretty quickly […] and are a lot more comfortable with platonic intimacy than they initially thought. So, often the session ends with me snuggling or spooning them. With a few clients it took more than one session for them to feel fully at ease within their own body but it was really beautiful when they had that 'breakthrough' and could fully relax."
She described such a "breakthrough" as the realisation that other people can be trusted or that the client can enjoy intimacy with other people. Elise clarified: "I do not actually 'do' anything that is rationally planned during the session or 'make' the client do anything: I listen to the client's body" and besides asking how things feel, and noting physical reactions, she relies on intuition and trusts the client to best know what they need.
Elise expressed the belief that negative perceptions of oneself and others can be linked to a condition known as "touch hunger", for which cuddle therapy is a remedy. She defined this as "a state of depression that sets in when people haven't been touched or touched others in a long time." People who have had a positive childhood and "no body dissociation" usually also benefit from affectionate touch, she noted. According to Elise's knowledge and research, such people benefit from "large amounts of oxytocin, a hormone associated with relaxation, happiness, good social skills and feeling connected and trusting towards others". For such clients, one monthly session would suffice. However, chronically stressed or anxious people, those unhappily single or struggling with loneliness may be able to "come out of their shells" and benefit from repeated cuddle therapy sessions.
Although her service is "potentially open to everyone", Elise particularly recommends it for people who have been going through a highly stressful or traumatic experience of loss, high stress or mental health problems. People who accumulate touch hunger over longer periods of time and/or those struggling with symptoms of depression, generalised anxiety, burnout or social phobias may learn to appreciate and integrate physical touch differently into their lives following a few professional cuddling sessions.
Based on anecdotal evidence and client feedback, Elise told Chronicle.lu that people report a better, more balanced mood and les frustration at and fear of others (according to what is known about the effects of oxytocin). Cuddling may even lessen the perception of physical pain, she concluded.