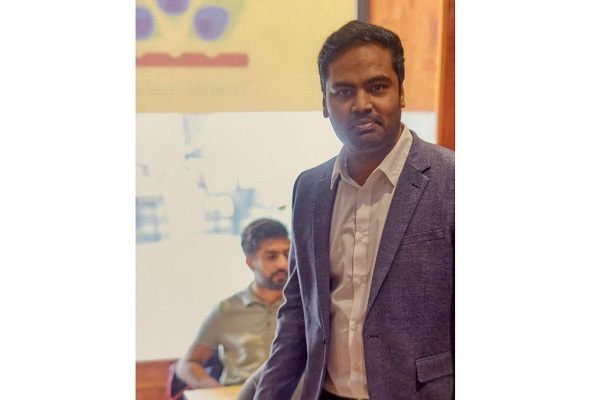 Sai Sumanth Pattem; Credit: Antonio Orenda
On the occasion of India's Republic Day on 26 January, Chronicle.lu reached out to a member of the Indian community in Luxembourg, Sai Sumanth Pattem, to learn about his entrepreneurial journey.
India celebrated its 74th Republic Day on Thursday 26 January 2023. This public holiday marks the anniversary of the adoption of India's constitution (26 January 1950) and the country's transition to a republic. Whilst there was no Republic Day celebration in Luxembourg this year, the Embassy of India in Brussels marked the occasion with a special event: Santosh Jha, Ambassador of India to Belgium, Luxembourg and the European Union (EU), unfurled the national flag and read out Indian President Droupadi Murmu's address to the nation. This was followed by various cultural performances. As Indian Association Luxembourg (IAL) President Selvaraj Alagumalai told Chronicle.lu, the community hopes to organise a regular event in Luxembourg to celebrate Republic Day from next year.
Chronicle.lu also had the opportunity to sit down with Sai Sumanth Pattem, a local entrepreneur originally from South India, who owns the South Indian vegetarian restaurant Krishna Vilas in Luxembourg-Gare, to learn about his success story. Krishna Vilas opened its doors at 63 Rue du Fort Neipperg at the end of August 2021.
Looking back, Sai Sumanth Pattem explained that he had grown up surrounded by entrepreneurs and working professionals; when he would visit his grandmother in her village in South India, family members would talk about their business, whether it was a supermarket or a textile company. He went on to study a bachelor's degree in business administration (specialising in finance) in India. He was already interested in starting his own business but followed his father's advice to finish his studies first and then see in which direction he wished to go.
After his studies, he secured a graduate placement at EY in India, where he "worked with a lot of talented professionals" and learned a lot of new things. However, to assume a managerial position, a qualification in a subject such as chartered accountancy was needed, and so, Sai Sumanth Pattem decided to move to Australia to study to become a certified public accountant. Alongside his studies, he worked part time in a restaurant in Sydney, starting out washing dishes before moving on to become waiting staff; after four to five months, the owner offered him a supervisor role. It was there that Sai Sumanth Pattem learned about the restaurant industry, as well as how to interact with customers and to upsell. It was also in Sydney where, having worked in a couple of accounting firms, he started his first business: setting up accounting software for new clients.
With his visa soon expiring, his employer at one of the Australian accounting firms suggested he move to either the Netherlands or Luxembourg; Sai Sumanth Pattem researched his options and settled on the Grand Duchy. However, he noticed that there was "no proper Indian food", at least not South Indian food, in his new home country; people were having to travel to the Netherlands and Belgium for authentic South Indian cuisine. Having stumbled across the Krishna Vilas franchise during a visit to Amsterdam, he met with the owner, Kris Ramanmurthy – who turned out to be a family friend – and expressed his interest in opening a Krishna Vilas restaurant in Luxembourg. Mr Ramanmurthy appreciated his vision and agreed that it was a good idea. Sai Sumanth Pattem took the initiative and began by researching the market, asking Indians in Luxembourg what they missed in terms of South Indian cuisine.
Then, the COVID-19 pandemic emerged and many restaurants and other businesses were forced to shut down. Sai Sumanth Pattem seized this opportunity to shortlist a few businesses, source the best location, ultimately settling on Luxembourg-Gare, and negotiate the price. The most challenging aspect after this was finding and bringing over suitable employees from India (to ensure the authenticity of the restaurant and its cuisine); the immigration process was not always easy. This process took about one year, and even now when looking to hire new staff, the immigration process remains a challenge. Nevertheless, the Krishna Vilas restaurant in Luxembourg-Gare opened its doors on 29 August 2021 and is currently "doing really well", despite mixed reviews at first. The restaurant now also has local staff from Luxembourg.
That being said, as is the case for many entrepreneurs, Sai Sumanth Pattem's entrepreneurial journey has not been easy and there are still challenges every day. "You're always on your toes," he said. Recent challenges have included the war in Ukraine and rising energy costs (and in turn other costs for businesses), which led to slightly higher prices at the restaurant from November 2022. However, Sai Sumanth Pattem assured that prices remained affordable.
On special occasions like India's Republic Day, Krishna Vilas offers special sweet treats to its guests.