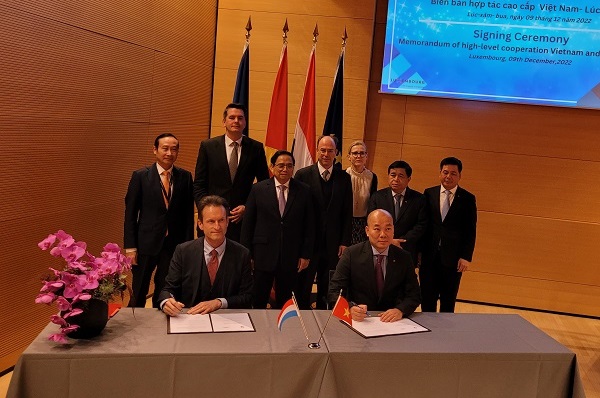 Luxembourg Chamber of Commerce and Vietrade MoU signing ceremony; Credit: Jazmin Campbell / Chronicle.lu
On Friday afternoon, the Luxembourg Chamber of Commerce hosted the Vietnam-Luxembourg Business Forum, on the occasion of the official visit of Vietnam's Prime Minister Phạm Minh Chính to Luxembourg.
Prime Minister Phạm Minh Chính, accompanied by five Vietnamese government ministers and a sizeable business delegation, is visiting the Grand Duchy from Friday 9 to Saturday 10 December 2022.
The Vietnam-Luxembourg Business Forum, organised jointly by the Luxembourg Chamber of Commerce and the Embassy of the Socialist Republic of Vietnam in Brussels, kicked off with speeches by Carlo Thelen, Director General of the Luxembourg Chamber of Commerce, Lex Delles, Luxembourg's Minister for Small and Medium-Sized Enterprises (SMEs) and Minister for Tourism, and Vietnam's Prime Minister Phạm Minh Chính.
Forum host Luc Decker, Deputy Chief of Staff of Luxembourg's Minister of the Economy, noted that Minister Franz Fayot was unable to attend this event as he is currently visiting one of Vietnam's neighbours, Laos, along with His Royal Highness the Grand Duke of Luxembourg, who will be back in the Grand Duchy to receive the Vietnamese Prime Minister in audience at the Grand Ducal Palace on Saturday. Mr Decker introduced the official Vietnamese and Luxembourgish delegations, confirming that the former's visiting business delegation represented almost 30 Vietnamese companies, whilst representatives of nearly 50 Luxembourgish companies were also present at the forum.
In his welcome address, Carlo Thelen welcomed the Vietnamese delegation and recalled that Luxembourg and Vietnam are preparing to celebrate 50 years of diplomatic relations (1973 to 2023). He expressed his confidence that both countries were committed to continuing to promote bilateral economic ties. He recalled that Vietnam is currently Luxembourg's ninth biggest trade partner outside the European Union (EU). He also commented on the Southeast Asian country's "young and dynamic" workforce and its growing middle class. Mr Thelen cited some examples of Luxembourgish companies already active in Vietnam, such as Cargolux (regular flights), B Medical Systems and ArcelorMittal, and noted the interest of several other companies in the country. He concluded his speech by expressing his belief that the Vietnam-Luxembourg Business Forum would further facilitate dialogue and cooperation on fruitful projects between the two countries.
In his opening remarks, Vietnamese Prime Minister Phạm Minh Chính focused on three main points, namely the foundations of Vietnam and its economy, relations between Luxembourg and Vietnam and what can be done to advance these bilateral relations "in the interest of the two peoples" whilst contributing to "peace, stability and development" in the region and in the world. The Prime Minister recalled that both Vietnam and Luxembourg have changed significantly over the past 50 years: Vietnam was marked by war and "suffered a lot", going on to pursue its development of as a socialist democracy with a socalist-oriented market economy; Luxembourg has developed itself as one of the world's leading countries in terms of services and logistics, having previously been a mainly agricultural and then industrial country. Prime Minister Phạm Minh Chính welcomed the fact that the "friendship and cooperation" that exist between both countries have been increasingly "nurtured and fostered" and stressed the importance of furthering bilateral relations in the coming years.
The Vietnamese Prime Minister stated that Vietnam is a developing country with a high level of economic openness and thus it was important to enhance resilience by implementing strategic breakthroughs, namely regarding institutions, human resource development and the development of strategic infrastructure. To meet such goals, financial resources are necessary - including from external sources. In this context, he looked forward to Luxembourg sharing its experience, expertise and assistance with Vietnam. The Prime Minister added that Vietnam was "ready to be a friend and a reliable partner" for all countries. However, he stressed the need to ensure political stability, not least to be able to continue to attract foreign investors and trade partners.
In order to promote Vietnam's development, according to its Prime Minister, the country needs to complete its institutions and implement reform policies, as well as mobilising external funding whilst ensuring that investors can make a profit. Efforts are also required to promote digitalisation, the green transition and the circular economy, as well as start-ups and innovation. The Vietnamese Prime Minister praised Luxembourg for having made "the right choice" in fully harnessing its competitive edge to develop itself in the financial and banking sectors, describing it as a country capable of combining the "strength of time" and "the strength of the nation" to promote prosperity. He noted that the two countries enjoy "very good" investment relations, with Luxembourg being the third largest EU investor in Vietnam. Both countries are home to many SMEs, and he hoped that Luxembourg would continue to expand its business operations in Vietnam. The Vietnamese Prime Minister concluded with the hope that Luxembourg could serve as a gateway to the large EU market for Vietnam and that Vietnam could in turn facilitate access to the large Asian market for Luxembourg. Whilst problems may arise during the cooperation process, he hoped that both countries could work together to identify and address any problems.
For his part, Minister Lex Delles agreed that both Luxembourg and Vietnam have undergone significant change in the past decades, with the latter having achieved "remarkable progress". He highlighted the significance of the EU-Vietnam Free Trade Agreement and the Investment Protection Agreement, which have supported growth and trade on both sides. He noted that Luxembourg also underwent a great transformation, from relying on agriculture to becoming a leader in the steel industry to developing its banking and financial services industries, which in turn helped develop the country's tourism and hospitality sectors. Minister Delles noted that both the Luxembourg and Vietnamese governments place great emphasis on the tourism sector and was thus pleased that a memorandum of understanding (MoU) would be signed that evening between the École d'Hôtellerie et de Tourisme du Luxembourg (EHTL) and Hong Quang Business Consulting Company Limited (HQBC); this MoU will implement a cooperation project aimed at promoting vocational training in provinces and cities in Vietnam in the hospitality and tourism sectors. Minister Delles concluded by stating that he was convinced that Luxembourg and Vietnam would continue to work together closely in the future.
The official speeches were followed by the signing of several MoUs between Luxembourg and Vietnam, namely between the Luxembourg Chamber of Commerce and Vietrade, between Luxaviation and Thien Minh Group, between EHTL and HQBC and between EVN and Babcock & Wilcox.
The forum continued with an official video about the Vietnamese economy, a presentation of the benefits of the EU-Vietnam Free Trade Agreement and keynote presentations by a Vietnamese representative as well as a couple of Luxembourg companies active in Vietnam (B Medical Systems, Paul Wurth). The evening concluded with a walking dinner.