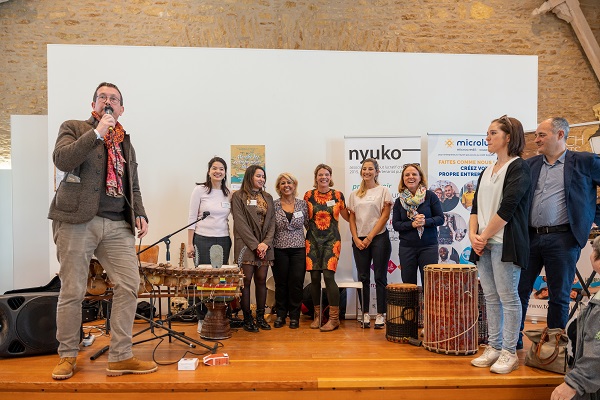 L-R: Maurice Bauer (VdL); Quyen Ngo-Li (Microlux); Ikram El Kahla (Co-Créateurs); Guitta Mouwannes (Touchpoints); Cécile Devroye (Co-Créateurs); Delphine Anzvui (nyuko); Minister Corinne Cahen; Fabienne Colling (Touchpoints); Patrick Goldschmidt (VdL); Credit: Naderi Photography & Video Sàrl-S
The Schéiss cultural centre in Val Sainte-Croix hosted the very first edition of the "Marché des Entrepreneurs Locaux" (local entrepreneurs market) on Saturday 8 October 2022.
Organised by Touchpoints, microlux, nyuko and Co-Créateurs (REconomy Luxembourg), this event enabled more than 40 entrepreneurs to present their products and services to hundreds of visitors who came to take part in the day's many activities.
"In a context of crisis and uncertainty, micro-entrepreneurship as it is developed by our project leaders is a fabulous job creator and a way to become independent thanks to one's passion", explained Fabienne Colling, Director at Touchpoints.
"The female and male entrepreneurs present today have gone through one or more of the support programmes we offer and some have benefitted from a microcredit to start their business", added Quyen Ngo-Li, Communication Manager at microlux.
The organisers have also asked for better recognition of micro-entrepreneurship and administrative simplification at all levels in Luxembourg.
"We also make entrepreneurs aware of the importance of structuring their ideas upstream. This is essential to create sustainable activities that contribute to the economic growth of the country", stated Delphine Anzevui, Project Manager Promote at nyuko.
Maurice Bauer and Patrick Goldschmidt, aldermen of the City of Luxembourg (Ville de Luxembourg - VdL), presented the official part of the local entrepreneurs market. Luxembourg's Minister for Family Affairs and Integration, Corinne Cahen, also made a surprise visit and took the time to meet the exhibitors.
MEL22-1: From left. to d. Maurice Bauer, Corinne Cahen, Patrick Goldschmidt, Fabienne Colling
MEL22-2: From left. to d. Maurice Bauer, Quyen Ngo-Li (Microlux), Ikram El Kahla (Co-Creators), Guitta Mouwannes (Touchpoints), Cécile Devroye (Co-Creators), Delphine Anzvui (nyuko), Corinne Cahen, Fabienne Colling (Touchpoints), Patrick Goldschmidt
MEL22-3: Market view - Stands
MEL22-4: View of the market - Salle 'Schéiss', Val Sainte-Croix, Luxembourg
MEL22-5: Market view - Stands
MEL22-6: Visit to stands - Madam Minister Corinne Cahen