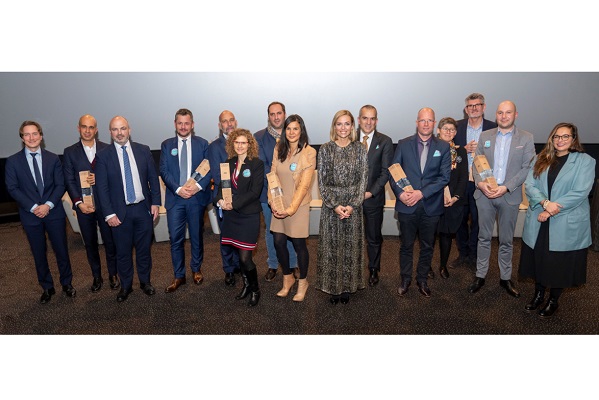 Luxembourg's Equality Minister Taina Bofferding pictured with Positive Actions label recipients, as well as Nora Back, Chamber of Employees President, and Jean-Paul Olinger, UEL Director; Credit: MEGA
Luxembourg's Ministry of Equality between Women and Men has rewarded ten companies for their commitment to gender equality throughout the COVID-19 pandemic.
On Wednesday 8 December 2021, the ministry held its 8th Positive Actions programme labelling ceremony, during which Luxembourg's Minister of Equality between Women and Men, Taina Bofferding, awarded this label to ten companies which have demonstrated concrete commitments to gender equality at work.
The Equality Ministry's Positive Actions programme in favor of a more inclusive economy and a more egalitarian society is based on a voluntary approach by companies. Based on an external evaluation, funded by the ministry, which identifies the main challenges and offers recommendations to respond to them, companies develop and implement an equality plan.
In a difficult economic and social context, the ten winning companies have increased their efforts in recent months in terms of gender equality in recruitment, salaries, promotions, training and work-life balance.
"It is precisely the desire to continue the Positive Action programme during this pandemic that shows to what extent equality between women and men is a priority for these companies. I am therefore particularly proud to be able to award the label to ten companies which have shown a strong perseverance, towards the equality of women and men, during this time, while continuing their efforts towards equality experienced on a daily basis. Economic decision-makers are therefore essential partners if gender equality is to become a reality", stated Minister Bofferding.
To highlight the tripartite dimension of the Positive Actions programme as well as the responsibilities and actions of the social partners in this regard, Luxembourg's Equality Minister was joined on this occasion by Nora Back, President of the Chamber of Employees (Chambre des Salariés), and Jean-Paul Olinger, Director of the Union des Entreprises Luxembourgeoises (UEL), Luxembourg's union for private-sector businesses.
The latest recipients of the Positive Actions label were: Allen & Overy; Ampacet Europe; CDCL Groupe; ISTA; Lombard Odier; Muller & Wegener; Schroders; Temenos; Wavestone; WW+ architektur + managament.Ampacet Europe
To date, around 100 companies with some 40,000 employees have successfully participated in the Positive Action programme.