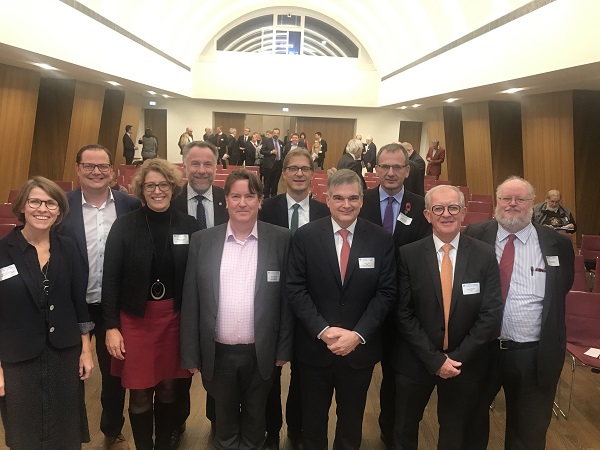 On Thursday 7 November 2019, the British Chamber of Commerce in Luxembourg (BCC), in partnership with the Ireland Luxembourg Chamber of Commerce (ILCC), held an After-Work event entitled "Brexit: Planes, Drinking water and Mars Bars" at the BCEE Banking Centre on Avenue de la Liberté in Luxembourg-gare.
The members-only event was so-called as Boris Johnson reassured British voters than even in the event of a no-deal Brexit, planes will be able to fly, drinking water will be available and there will be enough ingredients to make Mars bars.
Introduced by Dan Kerschen, BCC Chairman, and Joe Huggard, ILCC Chairman, the guest speakers included Martin Hollywood, Tax Partner at PwC Luxembourg, Claude Marx, Director General at the CSSF and Marielle Stevenot, Employment Law Partner at PwC Legal Luxembourg, with Douwe Miedema, journalist, moderating the discussion. The British Ambassador to Luxembourg, John Marshall, and the Ambassador of Ireland to Luxembourg, Stephen Dawson, also spoke at the event.
Addressing the 100-strong audience, Ambassador Marshall explained that Britain currently remains a member of the EU and will do so until 31 January when all scenarios are possible; the two main scenarios are that either Britain will leave the EU with a deal, or that they will leave without a deal, with the government preparing to limit the "cliff-edge" scenarios.
While he refused to speculate on the future regarding Brexit, he said that for the next 5 weeks he will be waitong on the outcome of the general election and seeing what the incoming government will be doing regarding Brexit. He mentioned that the next BCC event at which he will be speaking will the the Christman Lunch on Friday 13 December, coincidentially the day after the forthcoming general election in Britain, which may or may not provide some clarity on the future of the country.
The round-table discussion started with Claude Marx explaining that the CSSF has two roles as a regulator, to protect investors and try to avoid market disruption. He said that Luxembourg and London have inter-dependencies and the CSSF needs to ensure that they remain working in all Brexit scenarios; this will allow Luxembourg organisations to continue to outsource services to UK service firms, thanks to two laws enacted by the Luxembourg government. 600 firms have taken up the invitation to register with the CSSF to apply to set up legal entities / licences in Luxembourg.
On Labour Law and Travel, Marielle Stevenot explained that it is important that there is no change to the rights of UK nationals and family members to free movement, that they continue to enjoy the full range of benefits currently available in Luembourg. Currently, if the UK were to leave the EU, UK nationals resident in Luxembourg would not be able to move, even on a temporary basis for their employer, to another EU Member State, e.g. Germany.
Regarding social security rights, one can ensure there are no gaps in social security payments when moving between countries, and likewise there are no doubling up of cover, will there need to be bilateral agreements between the UK and each EU Member State should the UK leave the EU.
Martin Hollywood talked about the move of a significant number of insurance companies to Luxembourg, as well as some fund managers, being one of the most significant movements since the Brexit debate started. While some people have moved from the UK to Luxembourg, there has not been a flood as some people had suggested at one point. He did address "Brexit fatigue" from which many people are suffering... He also added that, on the issue of potenial tax harmonisation throughout the EU, even though France and Germany are in favour of it, he feels that there are enough EU Member States against its implementation, e.g. Ireland, Poland and Hungary.
Claude Marx added that, even if there is a withdrawl agreement, we have no clue as to how the future working relationship - after 31 December 2020 - will work. A huge amount of work will be required in those 11 months. He feels that UK regulators now understand the consequences of breaking the equivalence with EU regulation, and do not really want this. He also mentioned noises coming from the US about reducing regulation in a future UK-US trade agreement.
Ambassador Dawson concluded the formal part of the evening by stating that the issue of Brexit has actually been a very interesting exercise in looking at future political agreements. He referred to the hard work on both sides in reaching a decision on Brexit, there still remains a possibility of a no-deal Brexit which is a deep concern for the Irish government. The government has tried to reach companies to help them prepare; however, he acknowledged that small companies are hesitant to commit resources until the future is clearer. He did however state that since Leo Varadkar and Boris Jognson met a few weeks ago, the future is a bit clearer. But Brexit will cause problems in the short and medium term. While Ireland and the EU have disappointment in the UK's decision, there is no ill will, and these is a determination to develope a close and harmonious future relationship.
The formal part of the evening concluded with a networking cocktail.