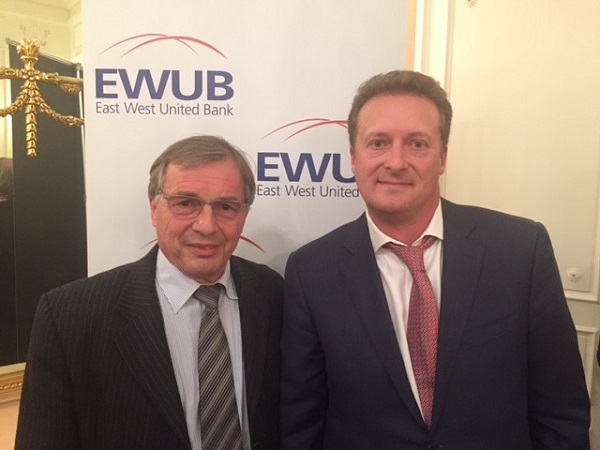 The East West United Bank (EWUB) held a reception at the Villa Foch, its headquarters on Bld Joseph II in Luxembourg city on Wednesday evening.
Jeannot Krecké, former Minister for the Economy and Foreign Trade, spoke about developing relations between Luxembourg and Russia, and announced his appointment as Chairman of EWUB in Luxembourg; he had previously served as independent board member at EWUB.
New CEO Sergey Pchelintsev explained that the EWUB has changed its focus somewhat this year, addressing corporate investment banking and private banking, with a focus on wealthy private Russian individuals who would be able to avail of the advantages offered by Luxembourg's regulatory environment. Their aim is to become the best private bank for Russian clients in Europe. He succeeds Svetlana Fedotova at EWUB.
Photo by Geoff Thompson (L-R): Jeannot Krecké, EWUB Chairman; Sergey Pchelintsev, EWUB CEO