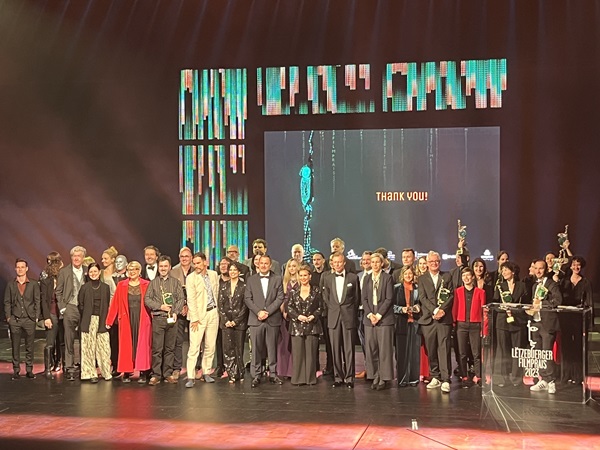 Filmprais 2023 winners, with the Grand Duke, Prime Minister Xavier Bettel and Minister of Culture, Sam Tanson.; Credit: Chronicle.lu
The 10th edition of the Lëtzebuerger Filmpräis (Luxembourg Film Prize) was held on Saturday 11 November 2023 at the Grand Theatre in Luxembourg city, in the presence of Grand Duke Henri and around 800 invited guests.
Held every two years, the event rewards the best contributions to Luxembourgish cinema and audiovisual industry. This 10th anniversary edition celebrated 20 years of Filmpräis, with the 400 members of the Filmakademie (Luxembourg Film Academy) having voted in two rounds for 40 short-listed productions divided into 12 award categories (the prize for the best XR (extended reality) work was not subject to the vote of the members of the Filmakademie but to that of a specialised jury), and ALPC members voted for the Critics' Award.
The evening started with the two MCs delivering a short comedic routine containing a number of industry insider jokes and references to AI and time travel which were well received by the audience; continuing between each award announcement/presentation, in addition to a couple of musical performances.
The winners (plus short-listed nominees) were as follows (with other short-listed films listed):
Best Luxembourgish fiction or animation feature film (presented by the Prime Minister, Xavier Bettel, and Minister of Culture, Sam Tanson, who both received a standing ovation for their support of Luxembourg's film industry) winner: Kommunion, directed by Jacques Molitor; produced by Les Films Fauves. The other short-listed nominees included:
Icare, directed by Carlo Vogele; produced by Iris Productions
Io Sto Bene, directed by Donato Rotunno; produced by Tarantula Luxembourg
Little Duke, directed by Andy Bausch; produced by Paul Thiltges Distributions
My Fairy Troublemaker, directed by Caroline Origer; produced by Fabrique d'Images
Best Luxembourgish documentary feature winner: Michel Majerus – Next Step, directed by Anne Schiltz; produced by Samsa Film. The other short-listed nominees included:
I Fiori Persi, directed by Fabrizio Maltese; produced by Joli Rideau Media
L'Invitation, directed by Fabrizio Maltese; produced by Red Lion
L'Arrivée de la Jeunesse, directed by Fabio Bottani; produced by PassaParola a.s.b.l.
Vu Buedem, Bauzen a Biobaueren, directed by Tom Alesch; produced by Vereenegung fir Biolandwirtschaft Lëtzebuerg a.s.b.l.
Best fiction or documentary feature in co-production winner (presented by Guy Daleiden of Film Fund Luxembourg, and Jim Sheridan, Irish director): Corsage, directed by Marie Kreutzer; produced by Samsa Film. The other short-listed nominees included:
Hinterland, directed by Stefan Ruzowitzky; produced by Amour Fou Luxembourg
Les Intranquilles, directed by Joachim Lafosse; co-produced by Samsa Film
Plus que Jamais, directed by Emily Atef; co-produced by Samsa Film
Rebel, directed by Adil El Arbi and Bilall Fallah; co-produced by Calach Films
Best animated feature in co-production winner: Where is Anne Frank, directed by Ari Folman; co-produced by Samsa Film. The other short-listed nominees included:
Le Petit Nicolas – Qu'est-ce qu'on attend pour être heureux?, directed by Amandine Fredon and Benjamin Massoubre; co-produced by Bidibul Productions
Le Sommet des Dieux, directed by Patrick Imbert; co-produced by Mélusine Productions
My Love Affair With Marriage, directed by Signe Baumane; co-produced by Antevita Films
Saules Aveugles, Femme Endormie, directed by Pierre Földes; co-produced by Doghouse Films
Best short film winner: La Valise Rouge, directed by Cyrus Neshvad; produced by Cynefilms. The other short-listed nominees included:
Arman & Elisa, directed by Kiyan Agadjani; produced by Wady Films
Glimmen, directed and produced by Ken Rischard
Nuclear, directed by Roxanne Peguet; produced by Six Letters
Phoenix, directed by Roxanne Peguet; produced by Beast Pictures
Best series or transmedia production winner: Filmreakter Quickies, directed by Eileen Byrne, Suzan Noesen, Max Jacoby, Pattrawan Sukmongkol, Larisa Faber, Kim Schneider, Nilton Martins, Frederique Buck, Gintare Parulyte, Adolf El Assal, Catherine Dauphin, Godefroy Gordet, Govinda Van Maele, Nicolas Neuhold, Samuel Perez, Julie Schroell, Baptiste Menage, Thierry Mousset and Nadia Masri; produced by Filmreakter a.s.b.l. The other short-listed nominees included:
A Colonia Luxemburguesa, directed by Dominique Santana; produced by Samsa Film
Capitani – Season 2, directed by Thierry Faber and Christophe Wagner; produced by Samsa Film
The Inside of the Outsider, directed by Lukas Grevis; produced by Respect.lu a.s.b.l.
W. – Season 2 directed by Frédéric Zeimet, produced by Six Letters
Best female performance winner: Vicky Krieps in Corsage. The other short-listed nominees included:
Eugénie Anselin in Lost Transport
Marie Jung in Io Sto Bene
Marja-Leena Junker dans Kommunion
Sophie Mousel in Capitani – Season 2
Best male interpretation winner: Marc Limpach in Hinterland. The other short-listed nominees included:
Victor Dieu in Kommunion
Luc Feit in Little Duke
André Jung in Little Duke
Luc Schiltz in Capitani – Season 2
Best creative contribution in a work of fiction or documentary winner: Amandine Klee for Kommunion; image. The other short-listed nominees included:
Loïc Collignon, Angelos Dos Santos, Alain Goniva, Nicolas Leroy and Carlo Thoss for Corsage; sound
Sophie Garlinskas for Conan; makeup
Jako Raybaut for Capitani – Season 2; image
Uli Simon for Hinterland; costumes
Best creative contribution to an animated feature film winner: Loïc Collignon for My Love Affair With Marriage; sound. The other short-listed nominees included:
Bruno Murer for My Fairy Troublemaker; design
Samuel Rozier and Sarah Sutter for Icare; animation
François Spreutels for Saules Aveugles, Femme Endormie; decorations
Guillaume Verdier for My Fairy Troublemaker; decorations
Best original music winner: André Dziezuk for Icare. The other short-listed nominees included:
Kyan Bayani for Hinterland
Pol Belardi for Nice Not to Meet You
Emre Sevindik for l'Invitation
David Sinclair for Capitani – Season 2
Serge Tonnar for Little Duke
Best XR work winner: Missing Pictures, directed by Clément Deneux (who accepted the award online); produced by Wild Fang Films. The other short-listed nominees included:
Le Bal de Paris, directed by Bianca Li; produced by Fabrique d'images
Metamorphosis, directed and produced by Karolina Markiewicz and Pascal Piron
The Assembly, directed by Charlotte Bruneau; produced by Bidibul Productions
Wild Cities, directed by Laura Cortes; produced by a_BAHN
In addition, the Critics' Award (the Association Luxembourgeoise de la Presse Cinématographique (Luxembourg Press Critics' Association, ALPC)) presented their award to Les Intranquilles by Joachim Lafosse. The other short-listed nominees included:
Corsage, made by Marie Kreutzer; produced by Samsa Film
Konmunion by Ja Molitor