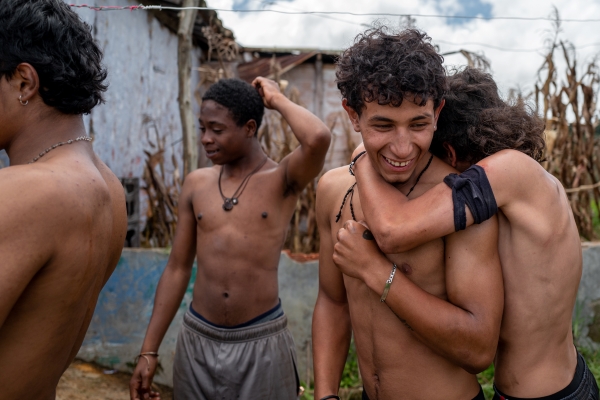 Credit: Iris Productions / Film Fund Luxembourg
On Sunday 25 September 2022, Luxembourg co-production "Les rois du monde" (The Kings of the World) by Iris Productions (Nicolas Steil and Katarzyna Ozga) won the Grand Prix (Coquillage d'or) for best film as well as the Critics' Prize awarded by the association of the Spanish cinematographic press at the 70th San Sebastián International Film Festival.
This year witnessed several international recognitions for Luxembourg cinema, which continues to accumulate awards in the most prestigious International film festivals. After the coronations of "Corsage" in Cannes, of "Petit Nicolas – What are we waiting for to be happy?" in Annecy and "Blanquita" in Venice, as well as earlier in the year, the César for "Le Sommet des Dieux", these two new distinctions in San Sebastián come on top of the incredible performances recorded this year by Luxembourg co-productions.
The Kings of the World is the second feature film by Colombian director Laura Mora. It is a co-production between Luxembourg, Colombia, France, Mexico and Norway which was supported by the Film Fund Luxembourg.
The sound post-production (dialogue editing, sound editing, sound effects and mix) was entirely carried out by the Philophon studios in Kehlen and the final part of the image post-production was handled by the L'Imagerie studios in Differdange.
More than a film, it's a hallucinatory tale, as cruel and painful as it is infinitely beautiful, which tells the story of a group of street urchins from Medellin (played by non-professional actors) who leave the metropolis for their sink into the thick Colombian forest. Their goal is to find land that belongs to one of them by inheritance. Thier grandmother had to flee them because of the intense violence that ravaged the place and now they are reverting to this boy under the terms of the public land restitution programme.
International sales of the film have been handled by Film Factory Entertainment.