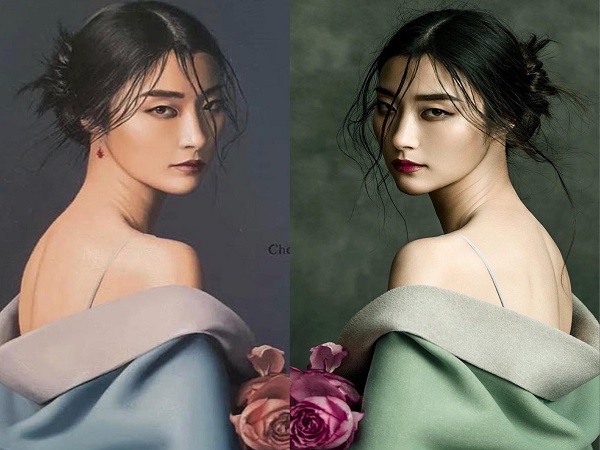 Left: Jeff Dieschburg's "Turandot"; right: a 2017 photograph by Jingna Zhang; Credit: Jingna Zhang
Chinese-born Singaporean fine art photographer Jingna Zhang, who is currently based in the United States (US), has accused one of the winners of the 11th Strassen Contemporary Art Biennale of intellectual property (IP) infringement.
Jingna Zhang took to social media this week to voice her frustration over a winning entry submitted by Luxembourgish art student Jeff Dieschburg, who she believes plagiarised her work.
At this year's Contemporary Art Biennale, which is taking place at Centre Culturel Paul Barblé in Strassen from 20 May to 8 June 2022, Jeff Dieschburg took home the "Prix d'Encouragement" (prize: €1,500 and a gallery exhibition) for his work, among which was a painting titled "Turandot", which bares a striking resemblance to a photgraph taken by Jingna Zhang for a magazine in 2017.
The US-based photographer posted the two images side-by-side on Instagam and Twitter and shared her correspondence with Mr Dieschburg.
"When confronted by others about copyright infringement, he sends me an email statement, tells me that as a figurative painter it's obvious that he needs reference materials", Ms Zhang wrote on Instagram. "That he was inspired by someone else who appropriated my photos first (!!), and even though he was inspired by some of my artistic choices, he had 'created an image in an artisanal way'".
She continued: "I'm always happy to let students reference my work for studies or practice, so long as it's not for official portfolios, commercial gain, and always credited".
Jeff Dieschburg told another local newspaper, L'essentiel, that he had carried out the work as part of his studies, arguing: "A painter can appropriate a material and transpose it into another context. I defend the principle of mimicry. It's a common artistic strategy".
In response to these IP infringement allegations, the Contemporary Art Biennale confirmed on Thursday 2 June 2022 that it has "decided to consult a specialist in the matter".