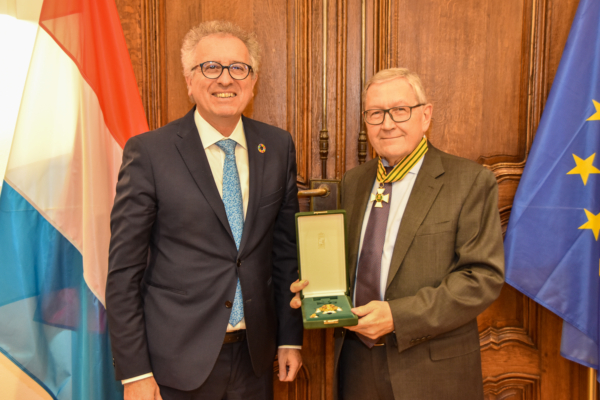 (L-R) Pierre Gramegna, Minister of Finance; Klaus Regling, Director General of the European Stability Mechanism; Credit: MFIN
On Wednesday 24 November 2021, Luxembourg's Minister of Finance, Pierre Gramegna, conferred in the name of His Royal Highness the Grand Duke the medal of Grand Officer of the Grand Ducal Order of the Oak Crown to Klaus Regling, the current and first Director General of the European Stability Mechanism (ESM), which is headquartered in Luxembourg.
Klaus Regling was awarded the decoration as part of general promotion in national orders.
Minister Gramegna commented: "Since the creation of the European Financial Stability Fund (EFSF), predecessor of ESM, in June 2010, Klaus Regling has worked for financial stability in the euro area. He transformed a temporary mechanism created in response to the sovereign debt crisis into a respected institution that is now an integral part of the governance framework of Economic and Monetary Union. Under his leadership, the ESM provided essential financial assistance to countries such as Greece, Spain and Portugal, which thus succeeded in overcoming the crisis. His courage and his swift and decisive action restored confidence in the euro. I would therefore like to congratulate Klaus Regling for his continued commitment to our common currency and European solidarity".
Klaus Regling noted: "It is a great honour for me to receive this prestigious distinction. I am deeply touched by this recognition. I am also indebted to all my colleagues at ESM who have given me their unconditional support over the past eleven years. Without them, I wouldn't be here tonight. I am happy to accept this order on their behalf".
During the handover ceremony, Minister Gramegna thanked Klaus Regling for his dedication in the performance of his duties and the excellent cooperation between Luxembourg and the ESM. He highlighted in particular the application by ESM of Luxembourg law for its bond issues following the United Kingdom's exit from the European Union. This decision is a major sign of confidence in the financial ecosystem and the regulatory framework of the Luxembourg financial centre.
Minister Gramegna noted: "Luxembourg welcomes its long-standing cooperation with ESM, and continues to strengthen its support for the latter's initiatives. A prime example of this continued support is the new building that the state intends to build on behalf of the ESM on the Kirchberg plateau. Klaus Regling is a great promoter of the European Union and its values ​​as well as a true friend of our country. With this distinction, Luxembourg wishes to honour its commitment to Europe".
Klaus Regling added: "When the two institutions were created, Luxembourg was chosen by consensus to host them. Time has shown this to be a great choice. The support of the Luxembourg government for the two institutions has always been essential. This support will continue to be crucial as ESM enters a new phase".