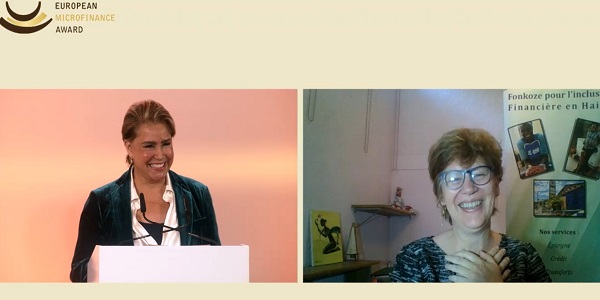 (Above, L-R): HRH Grand Duchess of Luxembourg; Carine Roenen, Executive Director of Fonkoze Foundation; (below) Nathalie Reuter with representatives of the three finalists;
The Haitian nonprofit institution Fonkoze Foundation has been named the winner of the 2021 European Microfinance Award, organised in and by Luxembourg, this year in hybrid format.
This year's theme was "Inclusive Finance and Healthcare", a particularly relevant topic in the context of the COVID-19 pandemic.
Following an introduction by Nathalie Reuter, Luxembourg's Minister of the Economy, Franz Fayot, took the (virtual) stage to explain how this award highlights "the crucial role" played by inclusive finance in the world. He stressed the need for the financially excluded to have access to better healthcare but also the means to afford it. The Economy Minister, who also serves as Minister for Cooperation Development and Humanitarian Affairs, recalled that microfinance "remains a key priority" of Luxembourg's Development Cooperation strategy.
Next on the agenda at this year's award ceremony were video messages from Dr Tlaleng Mofokeng, the United Nations' (UN) Special Rapporteur on the right to health, and Govinda Bahadur Raut, Chief of Small and Micro Banking at Muktinath Bikas Bank Ltd. (MNBBL), the Nepal-based bank which won the 2020 European Microfinance Award. Dr Mofokeng emphasised that everyone has the right to health. She noted, however, that "the starting point of millions of people around the globe is unequal", and such inquality affects an individual's right to health. She added that (in)equality must be understood in the context of the discriminatory systems in which it exists and "solutions cannot be ignorant to [this] power matrix".
Representing last year's winning project, Mr Raut explained how the award had helped support the mission of MNBBL, particularly supporting plans to scale up financial literacy programmes.
Craig Churchill, Chief Social Finance Programme at the International Labour Organisation, attended the event in person, having arrived in Luxembourg from Geneva. He emphasised the relevance of this year's topic and how "health-related financial risks are a primary driver of impoverishment". Mr Churchill praised the European Microfinance Award for its role in allowing financial service providers to highlight their creativity in developing solutions for such issues.
Finalists
A jury made up of financial experts narrowed the choice down to the following three finalists (after selecting ten semi-finalists out of 43 applications from 32 countries this year):
Crecer IFD (Bolivia), a microfinance institute providing financial and educational services to low-income women to improve their lives and that of their families. This non-bank institute particularly supports women dealing with cervical cancer, which is the leading cause of death among women in Bolivia. Whilst many of these deaths could be avoided with screenings and treatments, access to healthcare is limited, especially in remote areas;
Dreamlopments - Migrant Fund (M-Fund) (Thailand), a low-cost non-profit health insurance fund for migrants in Thailand. One key challenge since the beginning has been to maximise the healthcare benefits and protection of members while trying to build the financial sustainability of project.
Fonkoze Foundation - Boutik Santé (Haiti), a non-profit organisation which provides development services such as health education, literacy and business skills training to its clients. Some of the work of the foundation's community of health entrepreneurs includes supporting thousands of malnourished children and distributing medicine to thousands of people in Haiti.
Winner
Her Royal Highness the Grand Duchess of Luxembourg then delivered her honorary address before presenting the award to this year's winner: Fonkoze Foundation, for its collective mission to provide medical care and financial and non-financial care to Haitians, especially women and children.
The first prize is €100,000. The two runners-up will each receive €10,000 to support their respective projects.
The European Microfinance Award is organised by the Inclusive Finance Network Luxembourg (InFiNe), the European Microfinance Platform (e-MFP) and Luxembourg Aid & Development. The 2022 edition will focus on the topic of "Inclusive Finance for Women".