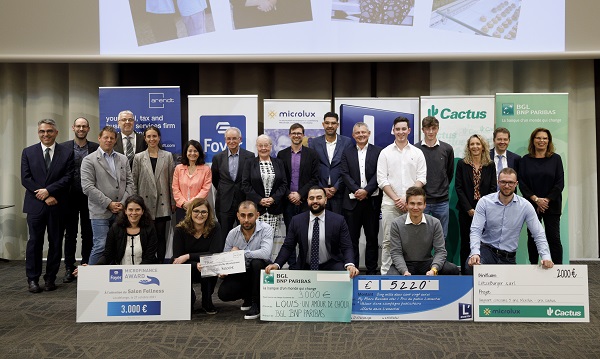 Credit: Ali Sahib
On Wednesday evening, microlux, a microcredit institution serving microentrepreneurs in Luxembourg, held its "My Microbusiness" competition prize-giving ceremony at the headquarters of BGL BNP Paribas, in the presence of Luxembourg's Minister of Finance, Pierre Gramegna.
This competition, organised by microlux with the support of BGL BNP Paribas, Foyer, Cactus, Arendt and Medernach and L'essentiel, as part of the 5th anniversary of microlux, aims to highlight microentrepreneurs supported and financed by the microcredit institution.
After a preselection by microlux, eighteen projects were presented to the competition partners who had the task of choosing four winners on the basis of the following criteria: the life cycle of the business creator, the social impact of the project and its development prospects. The four winners are:
Louis - Un Amour de Choux (bakery): BGL BNP Paribas prize, worth €3,000;
Fellness (ecological pet grooming salon): Foyer prize, worth €3,000;
LëtzeBurger (food truck): Cactus prize, worth €2,000;
Restaurant Télio (Mediterranean and Oriental specialties): Arendt and Merdernach prize, worth €3,000.
The "People's Choice" (Coup de Cœur du Public) award, organised by media partner L'essentiel, went to LëtzeBurger following a close vote. The young food truck will receive media support from L'essential worth €5,220.