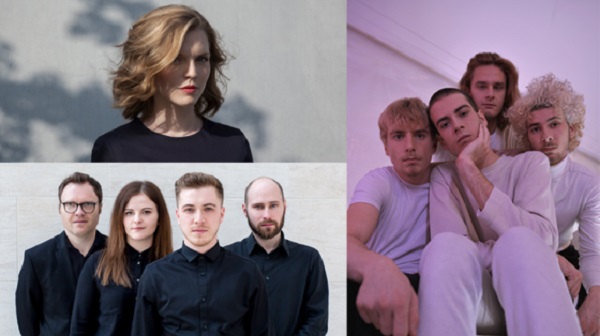 The juries for music:LX's first-ever Global Project Grant have reviewed each application and selected one winner from each category.
In the Classical / Contemporary category, the jury chose Cathy Krier as the winner. The jury, composed of Joé Haas (Ministry of Culture), Corinna Niemeyer (Orchestre de Chambre du Luxembourg) and Luc Boentges (100,7), stated: "We think that her project surrounding the music of György Ligeti has great potential for being the next important stepping stone in her career, regarding both the timing of the project and its artistic value. We were impressed by its versatility as well as its potential to be a success over the course of the next few years".
Michel Meis 4tet was crowned winner of the Jazz / World category. The jury, composed of Marc Nickts (Sacem Luxembourg), Patricia Jochheim (opderschmelz) and Lobke Aelbrecht (JazzLab, Belgium), explained: "We picked this project over the other, equally valuable, candidates because of the well-thought-out career plan and balanced budget, and decided to award the grant for this year to an artist on the verge of a break-through. Especially in times of a global pandemic, support by the Global Grant will be instrumental for this project to take crucial steps in the development of their international career".
TUYS won the Pop / Rock / Electro / R&B / Hip-Hop / Metal. The jury, composed of Marc Scheer (Kulturfabrik), Vicky Zeimetz (den Atelier) and Yves Stephany (100,7), commented: "The jury unanimously voted for TUYS because we felt that the band is at a point of their career where the grant can help them take that extra step to develop the project further and hopefully break through. Now, with the right management & booking team supporting them, they will also benefit from this new professional network and structure to further grow as a band. TUYS has developed a very clear artistic vision that isn't limited to the music itself. They also have created a very strong visual identity which helps them to really stand out. The jury also appreciates their attitude of 'going all in' by moving to Berlin where they live and work together under one roof".
Funding under the new music:LX Global Project Grant is allocated once a year for recipient(s) to undertake a number of activities to stimulate their career development, from the promotion and marketing of an album to international touring and workshops. This initiative aims to encourage artists and their teams to take the reins with their global budget over the course of a year. Awarded applicants for this grant receive up to €15,000 for the presented project.