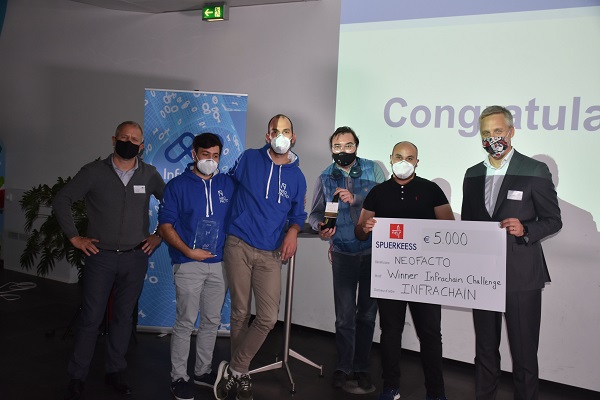 Winners & organisers (L-R): Laurent Kratz, VP of Infrachain; Nathan Heu; Thibault Introvigne; Frédéric Hubin; Mohamed Ali Masmoudi; Gaston Schmit, Jury President; Credit: Infrachain
On Wednesday 23 and Thursday 24 September 2020, Filedgr, Neofacto, PwC-Tokeny and Stampify participated in the first edition of Infrachain Challenge, a blockchain hackathon in Luxembourg.
The participants' task was to develop an innovative new application for the Public Sector Blockchain developed by the Ministry for Digitalisation. After 30 hours of brainstorming, planning, coding and designing, the four teams had ten minutes each to convince the jury of their project. Following intense deliberations, Neofacto was declared the winner of the 2020 edition.
"It was a very tough choice. The difference between the fourth and the first was only a few points", commented Gaston Schmit, jury president and government advisor at the Ministry for Digitalisation.
Neofacto's project is called ClaimIT! and intends to streamline authorisation granting for citizens. Neofacto presented a use case based on the procedure to request an authorisation for disabled people to use the dedicated parking spaces. Some of the benefits of their projects are a reduction of the administrative burden and €150,000 of savings per year in printing costs.
1st and 2nd runners-up were Filedgr and PwC-Tokeyn respectively. The former presented a system to certify data transfer that intends to make applying documents as simple as posting on social media, whilst the latter's project "Trust Care" aims to build trust in health care by reducing the potential for fraud.
The winning team was awarded €5,000 in prize money; those ranked 2nd and 3rd received €3,500 and €2,000 respectively.
Gaston Schmit concluded: "It was a very great experience and I think we will repeat it".
Video recordings of the pitching, the keynotes and the awards ceremony are available at https://infrachain.com/videos.