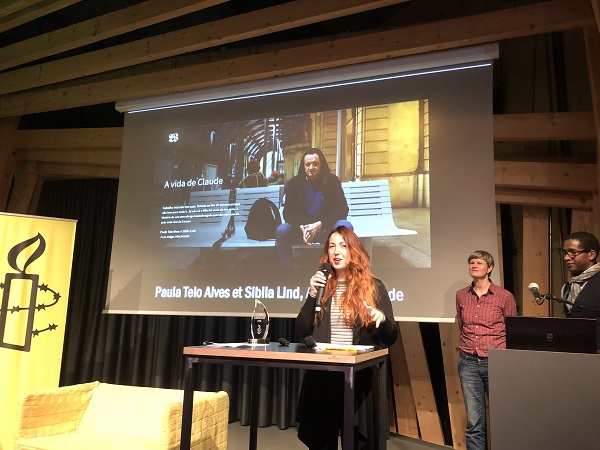 Sibila Lind; Credit: Amnesty International Luxembourg
Amnesty International Luxembourg has named young journalists Paula Telo Alves and Sibila Lind the winners of the 2019 Amnesty Media Prize.
A total of 27 papers were submitted for this year's prize, both by the journalists themselves and by third parties. The award ceremony took place at the Amnesty International Human Rights Festival on Monday evening at Rotondes in Luxembourg-Bonnevoie.
Paula Telo Alves and Sibila Lind received the award for their article on homelessness, entitled "Claudes tiefer Fall. Von einem Leben im Luxus zum obdachlosen Arbeiter" ("Claude's Deep Fall. From a life in luxury to a homeless worker") in the Portuguese language weekly newspaper, Contacto.
Another contribution on homelessness in Luxembourg was among the finalists: Sarah Munich's Télécran article "Mittendrin und nicht dabei" ("In the Middle and Not There"). Petz Bartz was also short-listed for his RTL Télévision report "Vu Meespelt an den Jihad" ("From Meispelt to Jihad"), which is about the Luxembourg-born alleged supporter of the Islamic State, Steve Duarte.
Discussing the winning article at the awards ceremony, Sibila Lind explained: "I read the news that 30 people working in the WAK [Wanteraktioun] had to stay overnight and was shocked. I wondered how this could happen. How is it possible that there are so many homeless people in Luxembourg?"
She continued: "Claude, the protagonist of our report, contributed a lot to its success, he was very natural in front of the camera and has a great personality. Homeless people should not just be defined by something they do not have, namely a home. So we wanted to show who Claude is, with his dreams, regrets and a great sense of humour. In addition, we wanted to make it clear that homelessness can happen to anyone: Claude earned over €8,000 a month, but he lost everything due to a drinking problem".
Although Paula Telo Alves could not be present, her colleague delivered her message: "We followed Claude for several weeks. It was important to us to take this time. It is also important to talk about social issues, to show their human side: to give them a story, a face, a voice. This enables us, the readers, the audience, our society, to understand what poverty and the housing crisis really mean".
This year's jury consisted of Armand Back, winner of the 2018 Amnesty Media Prize, Ines Kurschat, President of the Press Council, Michèle Mergen, member of the Amnesty Network for Human Rights Education, Alioune Toure, Vice-President of the Advisory Commission on Human Rights (Commission Consultative des Droits de l'Homme), and Raymond Weber, board member of the Cercle de Coopération.
With its media prerogative, Amnesty International has expressed its aim to acknowledge the contribution of the Luxembourg media to the general debate on human rights and to encourage media professionals to continue exposing injustices. The winners of the previous three editions were Armand Back, Laurence Bervard and Fréderic Braun.